The women in India have gone through many challenges and still overcoming daily challenges. India is a country where the birth of a girl child is looked at in sadness. So, achieving goals for a woman in India is always like swimming against the flow of the river. However, the undying, fighting spirit of some women, has proved that you can do anything in life if you have the guts and willpower. Somehow, sports have served as the opportunity for them to go out and showcase their talent to the world. On this auspicious International Women's Day 2021, we have listed out 10 Indian Sportswomen Who Will Inspire You to Change The World.
United Nations India has marked this year's women's day as "Ring The Bell for Gender Equality' & applaud women in leadership".
10 Indian Sportswomen Who Will Inspire You to Change The World
#1 PT Usha: Athletics
The queen of Indian track and field, PT Usha has inspired generations of Indian women to take up the sport. Born in the village of Kuttali in Kerala, PT Usha studied in nearby Payyoli – which later gave rise to her nickname 'The Payyoli Express' – and her natural talent was discovered when she was nine.
She was the first Indian woman to qualify for the finals of a track and field game in the Olympics. If it was not for a false start, she could have the bronze in 400-meter hurdles in the 1984 Olympic games. PT Usha finished her career with 23 medals in all, 14 of which were gold.
"I am satisfied with what I have achieved. All what I aimed for, except for the Olympic medal, I achieved. I now want to ensure that one of my students wins one!"

PT Usha post retirement in an interview about her  'Usha School of Athletics'
Read PT USha's full story here.
Also Read: Aprilia Manganang: A female player who turned out to be a man
#2 Bachendri Pal: Mountaineer
Bachendri Pal is one of the unknown Indian sportswomen. She was the first Indian women to climb the mount Everest in the year 1984. Though, she is widely recognized for her pioneering role in planning, organising & leading pathbreaking expeditions for women. Bachendri Pal now works as the he Director of the Tata Steel Adventure Foundation (TSAF). She is awarded with the third highest civilian award Padma Bhushan by Government of India in 2019. Her spirit to conquer anything impossible is a inspiring story to know.
#3 Jhulan Goswami- Cricket
A country filled with male cricketing stars, Jhulan made her mark in the world of cricket. Regarded as one the fastest bowlers in the history of women's cricket, Jhulan has made and broke many records. She won the ICC Women's Player of the Year in 2007. She was also bestowed with the Arjuna Award in 2010 and the Padma Shri award in 2012. Perhaps, she is also the first women cricketer to bag 200 ODI wickets. She is also the highest wicket-taker in the world with 227 ODI wickets.
View her full records at- https://www.bcci.tv/players/562/jhulan-goswami
#4 Sania Mirza: Tennis
Sania is one of the famous Indian sportswomen who inspired the whole female generation to take up tennis. On and off the court she is always motivating and inspiring the women of India. In her early career, she was busted with much abuse from society. However, that did not stop her to become a six-time grand slam champion, a former world no. 1 in doubles, and a three-time Olympian. She is also the first Indian woman to win a WTA title. Sania Mirza's achievements have helped Indian tennis to grown exponentially.
Mirza came out of her retirement in 2020 and won the doubles title at the 2020 Hobart International and then led India to their first-ever Fed Cup playoffs.
"One of the reasons to make this comeback was to tell women that you can follow your dreams. Just because you have a baby, you don't have to sacrifice your entire life. You can still be a good mother [while working]."

Sania Mirza on her comeback from retirement.
#5 Hima Das: Track and Field
Nicknamed as "Dhing Express", Hima das is one of India's most inspiring track and field athletes. Coming from a family with farmers, Hima showed the world that nothing is impossible. At an early, she used to play football with the boys in her village. But, later found her path in sprinting. Hima is the first Indian sprinter to win a gold medal at an international track event.
In her short career she has made many national records. She has already won three Asian Games medals, two of them being Gold. Hima is awarded with Arjuna Award in 2018.
"When I started running, I ran barefoot. But in my first Nationals, my father brought running shoes with spikes on them. It was just a normal pair of running shoes. I wrote 'Adidas' on the shoes with my hand. You never know what fate can do, Adidas is now making shoes with my name."

Hima Das on her tough days in an interview with Suresh Rina.
Also Read: Most Grand Slam Titles in Women's Tennis (active players) 2021
#6 Saina Nehwal: Badminton
Saina is the first Indian female badminton player to win an Olympic medal. Her story to the glory is very inspiring. At her birth, Saina's grandmother was not very happy with the birth of a girl child. However, it was her father and her wining spirit that made her the first and still the only Indian female badminton player to rank no.1 in the world. She is also the first Indian to win gold medals in two consecutive Commonwealth games.
Saina's life story will be seen in a hindi movie called "Saina" featuring Parineeti Chopra in and as Sania.
#7 Marry Kom: Boxing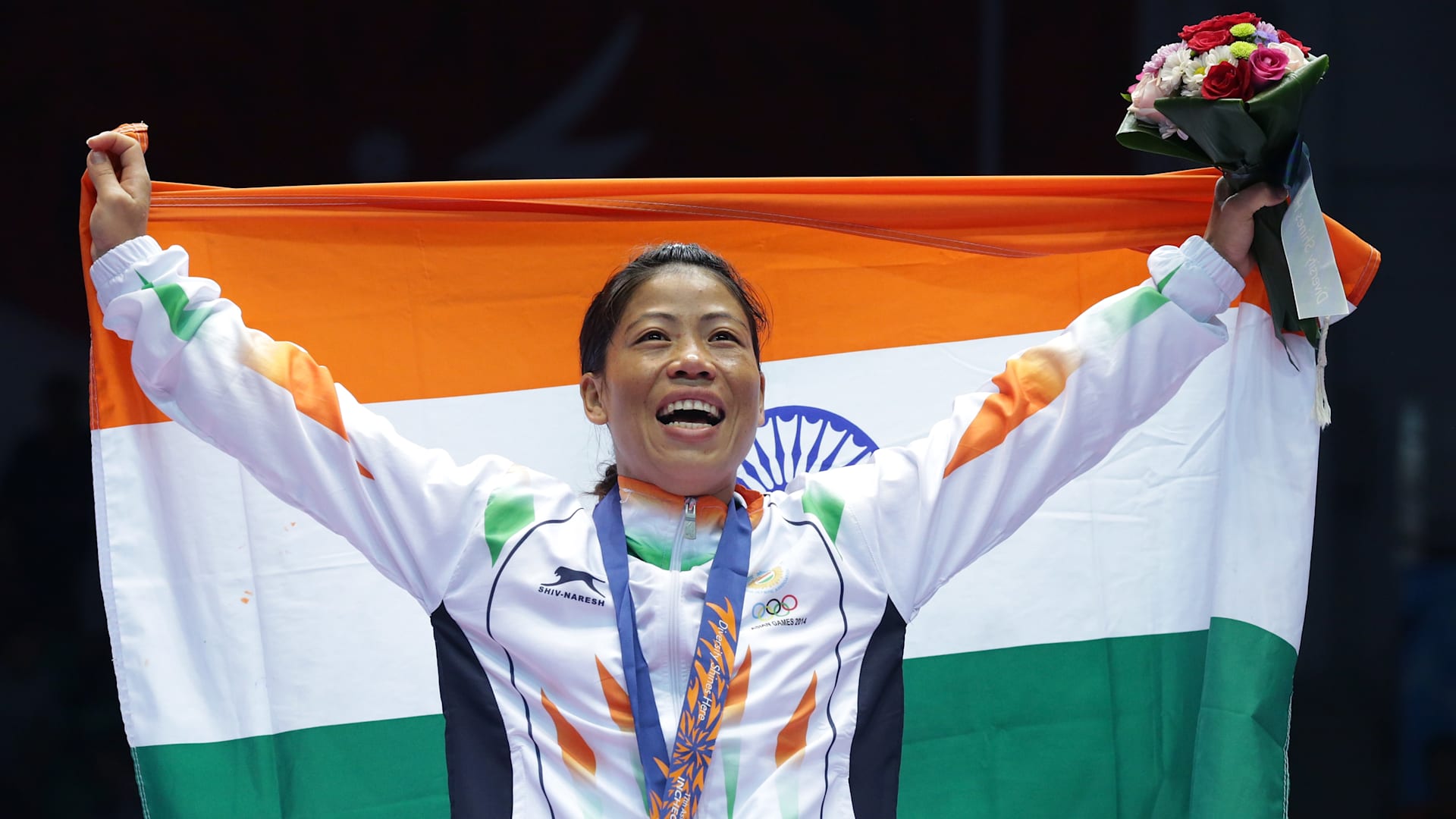 Born in a poor family of India, Mary Kom made sure she punch out every odds against her. Mary Kom is the first Indian woman to win a gold medal at the Asian Games (in 2014) and at the Commonwealth Games (2018). She has won eight medals at AIBA World Boxing Championships which is a record itself. A career spanning over 20 years, Kom has an Olympic bronze medal against her name as well. She is also determined to fight for another medal at the Tokyo Olympics.
Related stories- Mary Kom at 38: Up for a final hurrah in the Olympic ring
#8 Dutee Chand: Track and field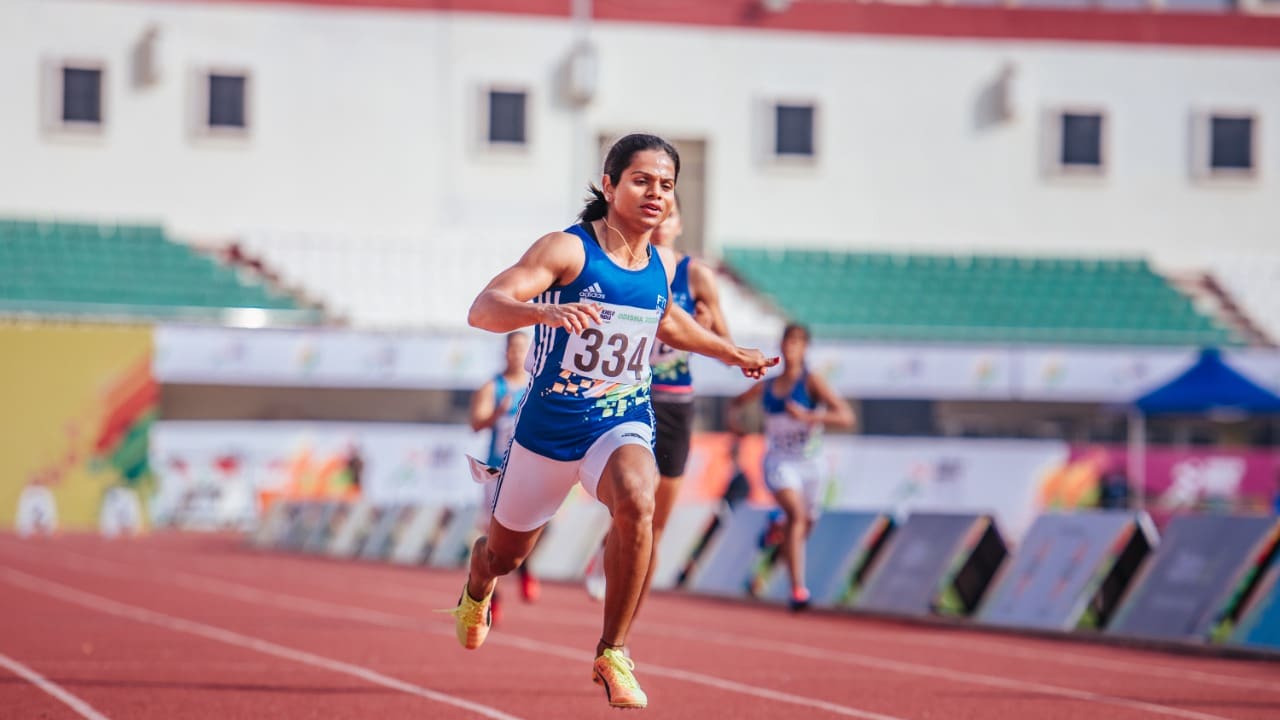 Dutee Chand is a trendsetter from the beginning of her career. She is the first openly gay athlete from India. She is also the first Indian Sportswomen to win gold in a 100-meter sprint at a global event. Dutee holds the national record in the women's 100m and is only the fifth Indian to participate in the women's 100 meters at the Olympics when she qualified for the 2016 Rio Games.
"there is nothing to fear about being in love."

Dutee on being in a same-sex relationship and being open about it.
#9 Geeta Phogat- Wrestling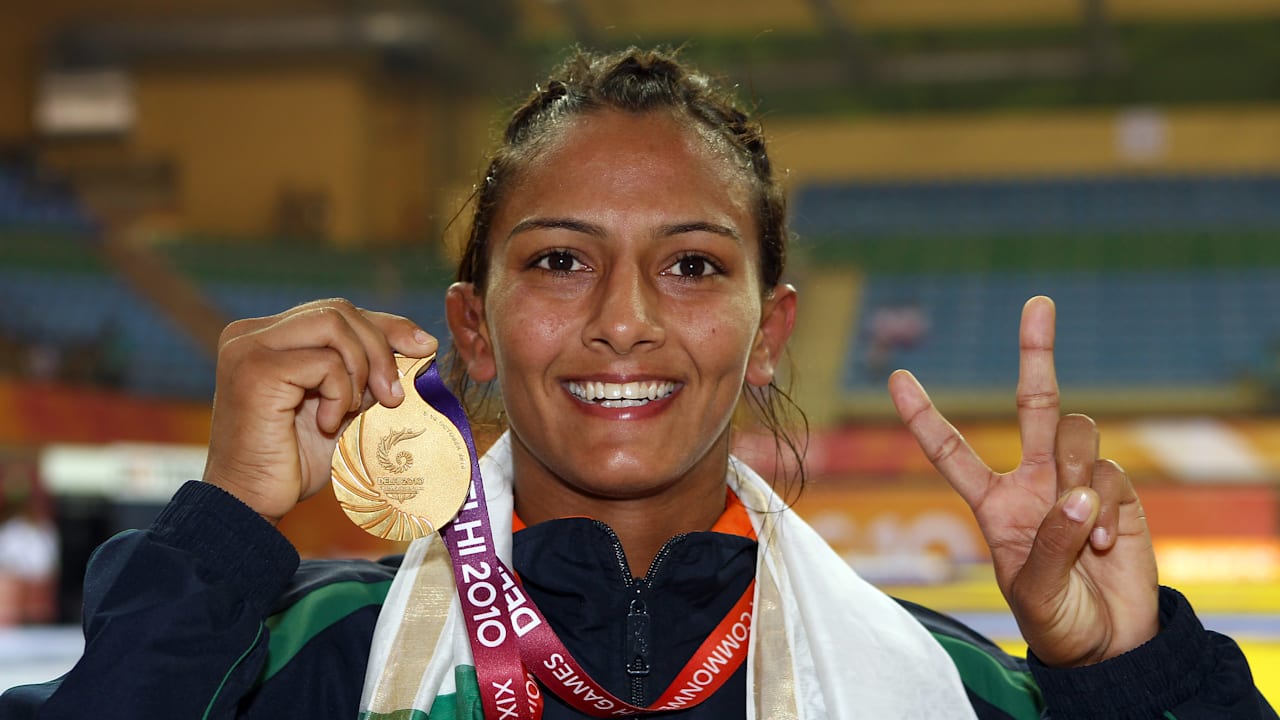 Geeta Phogat was India's most talked-about female athlete in India in 2020. At the 2010 Commonwealth games, she became the first woman wrestler from India to win gold. Since then Geeta has inspired many female athletes to take up the sport in India. In 2012, she became the first Indian woman (wrestler) to qualify for the Olympics. The Hindi movie "Dangal" is based on the life of Geeta Phogat.
#10 Bala Devi- Football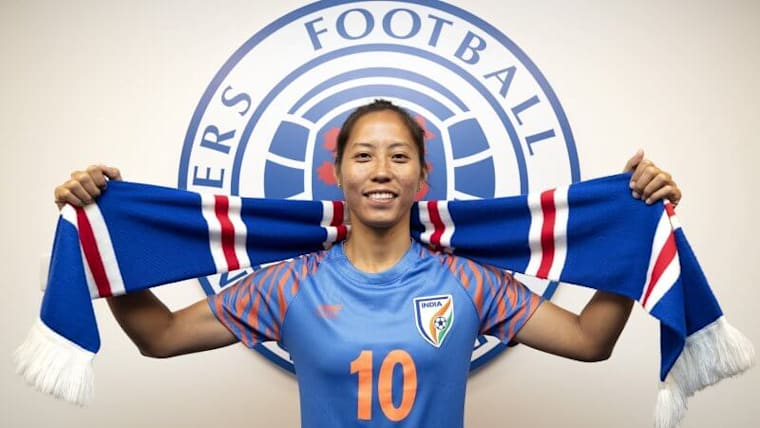 Now, this might be something new to all of you. Women's football in India is not that popular. But, it is the likes of Bala Devi who gave Indian Women's football a global name. Bala Devi has scored 52 goals in just 58 international games for India which is a record itself. She is also the first Indian female football player to sign a professional contract with an overseas football club. Bala signed an 18-month contract with Scottish club Rangers FC in 2020.
This was tough to list out only 10 inspiring Indian sportswomen from hundreds of them. However, we would love to hear from about who is you favorite female athlete in India. Let us know in the comment box.
Happy International Women's day to everyone.