Cricket is a game played in partnership. No matter how good you are you can not survive without a partner at the non-striker end. Therefore cricketers make bonding that goes beyond cricketing field and lasts for lifelong. On this friendship day, we bring you the 5 best cricketing friendship in cricket history.
Read Also: Top 10 teams with the most wins in T20I cricket
5 best cricketing friendship in cricket history
#1 Sachin Tendulkar & Sourav Ganguly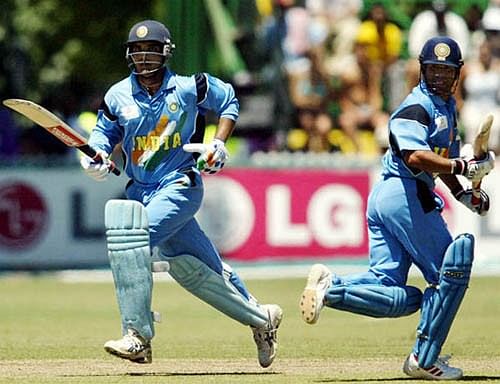 Well if you talk about partnerships in cricket and do not talk about Sachin and Sourav, you are doing a sin. The Indian pair is one of the most successful opening pairs in cricket history. Their cricketing friendship comes from u-17 days. Sourav and Sachin met each other there and toured for India U-17 team. Though Sachin went on to represent India way too early, their friendship remained the same.
Read Also: Sourav Ganguly Records
In fact, it was Sachin and Sourav who transformed the Indian team post the match-fixing scandal. They both scored 6609 runs as a opening pair in ODI cricket, which is a record itself. Also, they scored the most number of hundred run partnership in ODI cricket with 21 as a opening pair.
#2 Kumar Sangakkara and Mahela Jayawardene
These two Sri Lankan stalwarts dominated world cricket as a pair throughout their career. In fact, they were the only reason along with Muralitharan that Sri Lanka ruled cricket in the mid 2000s. Sri Lanka became unbeatable at their home soil on the banks of partnerships of Sanga and Mahela.
Read Also: Most international sixes in Cricket by Captains
They both piled up runs with ease in international cricket. Sanga and Mahela scored 6554 runs together in test cricket, which is only second to Dravid and Tendulkar's 6920 runs. Their 624 runs partnership against India is still the highest at any batting position in test cricket.
Kumar and Mahela now owns restaurants together. Also they are also trying to help Sri Lankan cricket get back at their feet.
#3 Shane Warne and Glenn McGrath
Probably the greatest bowling pair in cricket history, Warne and McGrath played together and ended their cricket together. Perhaps, it was because of them Australia would win against any opposition and at any place.
Ashes to Ashes,
Dust to dust,
If McGrath can't get you,
Warne must.
This old saying on Warne and McGrath reveals their greatness. Moreover, it talks about how they used to hunt in pairs. Though, Warne was bit flamboyant in his life, this duo's cricketing friendship ended many batsmen's career. Warne is the highest wicket-taker in Ashes history with 195 wickets, while McGrath is the second highest with 157 wickets. They both played 104 Tests in tandem and took 1,011 wickets.
In fact, Wisden has stated as them to be the greatest bowling pair of all-time.
#4 AB de Villiers and Dale Steyn
The only batting-bowling pair on our special list of best cricketing friendships. They started their career together and literally made South Africa the best cricket team in the world. Though the pair could not win any major ICC trophies for South Africa, they were the best Test team in the world during their time. Steyn finished his career as the highest test wicket-taker for South Africa (439) beating Shaun Pollock's record of 421 test wickets.
#5 Waqar Yunis and Wasim Akram
Waqar and Wasim is probably the most lethal bowling pair in modern cricket. The duo from Pakistan dominated the world with sheer pace and swing. Perhaps, Waqar is said to be the best reverse-swing bowler ever while Wasim Akram is said to be the "sultan of swing" (king of swing).
If Waqar could break your toes, Wasim could too. They both complemented each other that well that they took 500 test wickets in 61 test matches together. They both are probably the best pacers that Pakistan has ever produced.
Other than these pairs, world has seen many great friendships like Virat-ABD, Bravo-Pollard, Dravid-Kumble and Smith-Marnus over the years. We have chosen the best from 5 separate countires.