After rain washed out the fourth day both the finalists, team India, and New Zealand warmed the Ageas Bowl on the 22nd of June.

The first session was all India's way as Mohammed Shami and Ishant Sharma dominated the Kiwi batting lineup. One of two not-out batsmen overnight, Ross Taylor was removed after playing 37 balls and scoring 11 runs by Mohammed Shami. Shubman Gill took an extraordinary catch at the extra cover region.
Read Also: Cricket records: Most test matches as an umpire
Determined Kane and disciplined Team India
Next to fall was Henry Nicholls. After a few struggling moments at the crease, a delivery from Ishant Sharma was able to remove him. Nicholls was trying to play a delivery coming at the 6th stump line from around the wicket by Ishant Sharma. But unfortunately edged that between the first and second slip where Rohit Sharma dives to take a stunner. In the very next over Mohammed Shami removed Bradley-John Watling with a length ball rattling the off-stump of the Kiwi keeper. Probably the delivery was the best wicket-taking delivery of the match till now.
But after all these adversities present, Kiwi captain Kane Stuart Williamson stood tall. Though he added only 7 runs playing 75 balls in the first session with his overnight score of 12(37).
Read Also: Most Test Tons by Captains

In the second session, it was all Kiwi dominating. Allrounder Colin de Grandhomme smashed the very first ball of the session for a boundary. Soon he was removed by Mohammed Shami by trapping onto the pads. But Kane Williamson never looked weak but he started looking like a wall. He cautiously played a few square cut for four, left many balls outside off stump. When everyone was hoping for a good 50 he just fell one run short. Kane gave a catch at the second slip from a delivery off Ishant Sharma. He was literally trying to guide that ball towards third-man to complete his fifty.
New Zealand's tail and India's chances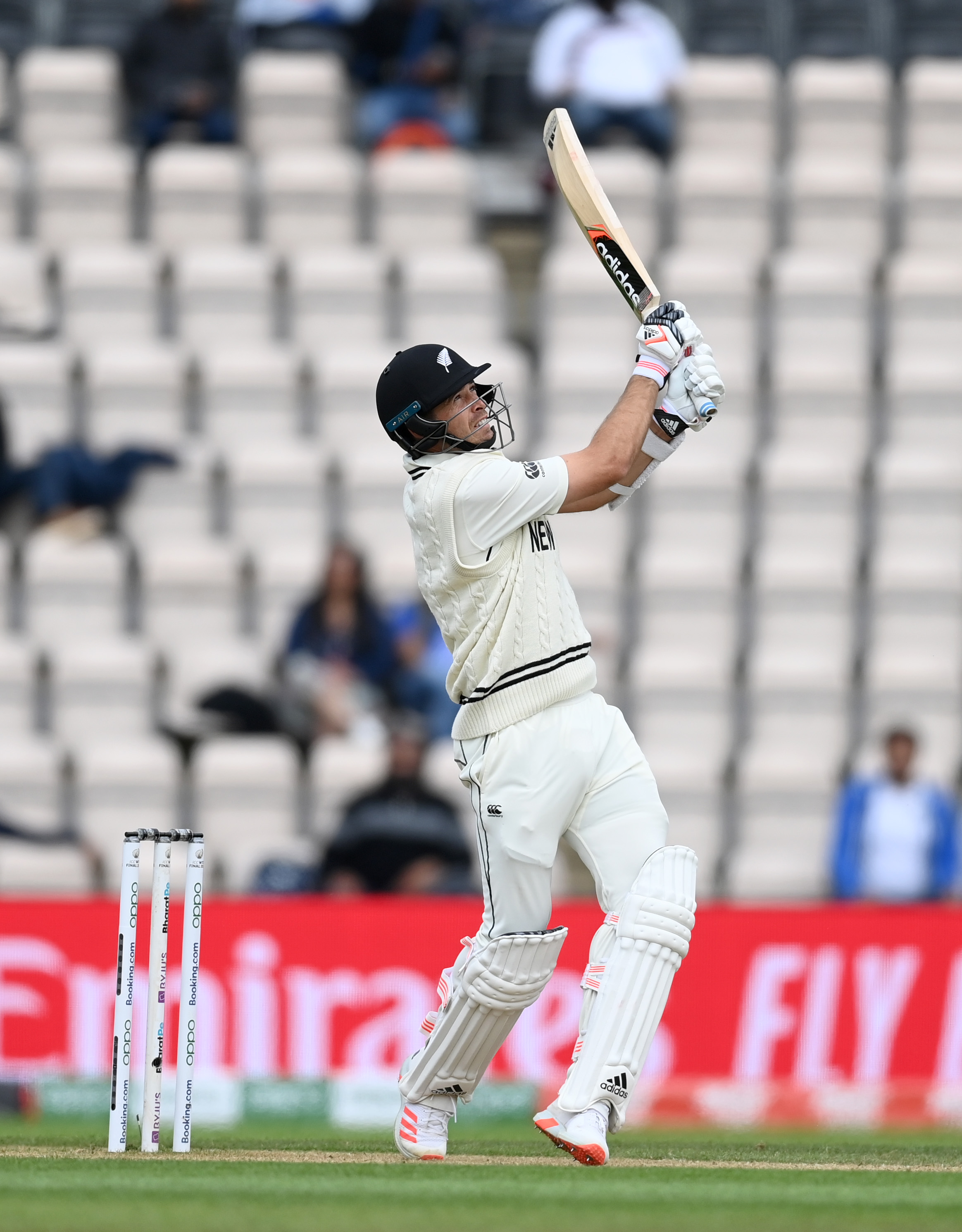 Tall man Kyle Jamieson continued to harm India with his bat also. He scored 21 runs at a nearly 140 strike rate. He played some good strokes and was looking dangerous. But, a pretty ordinary ball from Shami went straight onto the hands of Jasprit Bumrah at fine leg. And, he was sent back to the pavilion. After that Timothy Grant Southee not only showed some resistance but also added 30 runs on the board. Those runs gave them a crucial 32 run lead. That was really frustrating for team India and his bowlers. The places where India was outplayed are-
1) Indian tail has added 28 runs less than the New Zealand tail
2) setting an open field to someone like Jamieson and Southee. This gave the opportunity for them to land few balls at no man's land. Also, take a couple of runs on quite a few occasions among them.
Read Also: Most International wickets by Indians
India's Second Inning with the bat: WTC Final


When India came to bat their both openers Rohit Sharma and Shubman Gill looked strong according to their defence. Even Sharma found few boundaries and couples where Gill was defensive. Gill's poor run continued as he failed to cope up with an incoming delivery off Tim Southee. He was forced to go to the pavilion with 8 runs coming from his willow.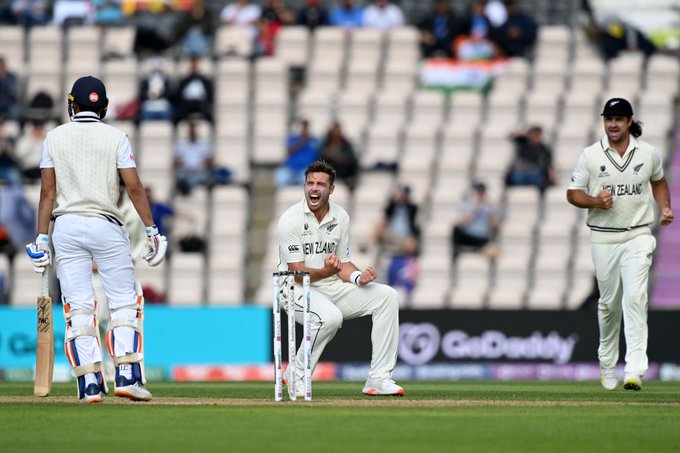 Cheteswar Pujara made a different start from him as usual start as he was off the mark in the very first ball he faced. After that, he was rock solid. In that course, he timed a ball off Trent Boult sweetly straight to get his first boundary of the innings. When Rohit was looking much solid he misjudged an outside off-stump delivery hitting pads from Tim Southee. With the umpire raising his finger, Rohit's innings was shattered at 30.
Read Also: Most international wickets since Ashwin's debut
Virat Kohli and Cheteswar Pujara are now at the crease at scores of 8* and 12* respectively with team India having 84-2 on the board.
The reserve day or the last day is going to be a cracker for sure with the match slightly inclined to Newzeland with much of the experts and spectators are voting for the test to be drawn.