Over the decades, cricket fans have witnessed several rivalries, but none of them come close to the one between India and Pakistan. Ever since the partition of India and Pakistan, the rivalry between both the countries is evident in different aspects and outlooks. Especially in sports like cricket, the rivalry between the people of both countries becomes very apparent. The cricket rivalry between these two teams does not end at the sport only. Instead, the sport is played at the expense of the nation's reputation because of the devotion and nationalism towards the citizen's nation and its team. As we are only a few days away from celebrating the 75th year of independence, let's have a look at the cricket facts of the three cricketers who played for both India and Pakistan.
Cricket Facts: Three Cricketers who played for both India and Pakistan
1. Abdul Hafeez Kardar
'The father of Pakistan Cricket', Abdul Hafeez Kardar is the first cricketer to play for both India and Pakistan. He made his test debut against England in 22nd June 1946 and played for India till independence. After independence he migrated to Pakistan, joined the Pakistan cricket team and became the first captain of the Pakistan cricket team in 1952. He is regarded as one of the best left arm spinners in Pakistan cricket history and his batting was great as well. The Southpaw played in 23 test matches representing Pakistan in 1952-58 and his debut match was against India. In 1958, he received the pride of performance award from the Pakistan government for his exclusive career in cricket.
Read also: Cricket Facts: Teams with Most ODI captains since 2017
2. Amir Elahi
Aamir Elahi is the second player of this elite list. He made his International debut against Australia in 12 December 1947. Not only he is one of the three players to play for both India and Pakistan, but also one of the 15 players to play test cricket for more than one country. Since his debut, he has played in only one test match for India. Also he was a pivotal member of Baroda in India's local circuit he picked up 193 wickets with an average of 24.72 and was immensely successful in the match.
After becoming a Pakistani citizen, he joined the Pakistani test team in 1952-53 and played 5 test matches and picked up 7 wickets. His cricket career was of a short span of time but he definitely had a good and successful one. Also he received the distinction by getting cap #1 among the Pakistan test cricketers. The former cricketer ended his short cricket career by being one of the oldest cricket players ever. His last test match as a Pakistani cricketer was played against India in Calcutta at the age of 44.
Read also: Highest score by an Indian in ODIs while batting at no.7 or below in a successful run chase
3. Gul Mohammad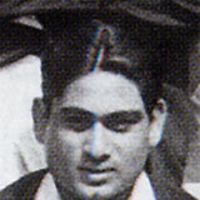 The third cricketer who played for both India and Pakistan is Gul Mohammad. The former cricketer made his test debut against England on 22nd June 1946. He received an international call-up because of his exceptional performance in the final Ranji Trophy between Holkar and Baroda. Along with Vijay Hazare, he made a partnership of 577 runs. His contribution was very much visible and important for the match as he scored 319 runs. The Southpaw was a small man of 5'5″ but he was a great fielder, great pacer, and a terrific attacking left-handed batsman.
He was a member of the Indian cricket team from 1946 to 1955 and played 8 test matches representing India. Until he took his Pakistan citizenship in 1955 he continued playing in Ranji Trophy as well. After joining the Pakistan cricket team, he played in one test match against Australia in 1956-57 and scored 12 and 27* runs. Later he was a part of the director board of the Gaddafi stadium in Lahore until 1987. Then he became of cricket coach in the Punjab Sports Board as well.