After a rainy interruption abandoning the first day of the test match, the sunlight at Southampton during the early morning of 19th June was definitely able to put some ray of hope for the Cricket fans. It was that sunlight due to which brought two captains in the middle for the toss. Kiwi captain Kane Williamson chose to field first after the coin luck favoured him. And day 2 of the WTC Final kicked -off finally.
Read Also: WTC Final: Rohit Sharma now the only player to play in two inaugural ICC finals

From the very first hour of the test match both the Indian openers- Rohit Sharma and Shubman Gill were aggressive to some extent. The opening bowlers of New Zealand- Trent Boult and Timothy David Southee went conceding 37 runs in their first 10 overs. Surprisingly the start of Kiwi pacers was so unexpected that the first maiden overcame (from Trent Boult) when the age of Indian first innings was 12 overs. Many experts and fans were thinking about the fatality of the two Newzeland pacers, luckily it never happened from the perspective of Team India.

Rohit Sharma looked very good until he went for a rash shot against delivery miles outside from the off stump by Kyle Jamieson. He went for 6 boundaries in his innings of 34 runs out of which he played two blistering backfoot punch through covers in front of Colin De Grandhomme. The next wicket to fall was Shubman Gill. Gill was also looking good in his innings of 28(62). He was playing the ball quite late and also found three good boundaries. After that, it was a quality delivery from Neil Wagner outside off stump that found the edge of Gill's willow and went to the safe hands of Bradley John Watling to make India 63-2. Two wickets went in quick succession within just one run.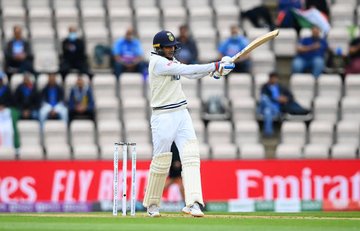 Read Also: WTC Final: ICC Event winners since 2000

Cheteswar Pujara started his innings as he used to do earlier. His account opening at the 36th ball of his innings and ending with just 8 after facing 54 balls at a strike rate of 14 justifies that there is no wonder why his test strike rate is 30.77 in the World Test Championship. However, he was beaten in an inswinger onto the pads by a delivery of Trent Boult leaving the board at 88-3 for India.

Indian Skipper Virat Kohli was much more watchful today even after he got a boundary from a glorious cover drive at the start of his innings. He was much more different as he never played an over-aggressive shot today. Virat made a not out 44 and played 127 balls and that boundary at the start of his innings is the only one till now. He played the ball late and was the most accurate batsman with 93% of the accuracy in his shots in front of Newzeland Bowlers who were swinging at an average of 2.24 degrees.
Read Also: Most player of the series winners in test cricket history
Indian Vice Captain Ajinkya Rahane was a bit aggressive as he tried to keep all the loose or semi-loose deliveries converting to runs. Be that he getting off the mark with a 3 in his very first ball faced or the three boundaries in the course of his 29 runs, he was always searching for some quick runs.

The second day was not totally played as just 64.4 overs were played out of which India scored 146 runs losing three wickets. One session was even and the other was awarded to India but Kiwis were not that outplayed on the virtual first day of the test match. All of them were impressive as they created few chances. Especially the last spell bowled by Tim Southee today made Ajinkya Rahane's stay vulnerable beating him on a quite few occasion. Bad light played a big role in destroying the concentration of both the teams as it interrupted around three times.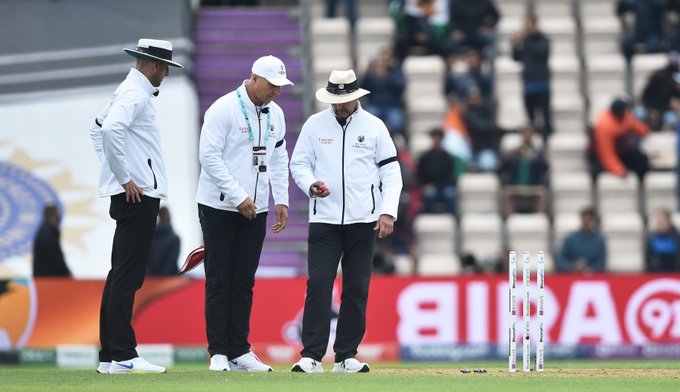 So, till tomorrow there is a bit of relief in the Indian camp as they successfully survived in the swinging condition of the Ageas Bowl.