The group stages of Copa America has come to an end. 10 teams started their journey in the group stage however, 8 teams have made it to the Copa America 2021 Quarterfinal. The top 4 teams from Group A and Group B have qualified for the knockouts.
Also read: Copa America 2021: Schedule, fixture, timings, everything you need to know
Copa America 2021 Quarterfinal: Qualified teams from each group:
Group A- Argentina(winners), Uruguay(runners-up), Paraguay(3rd Place), Chile(4th place)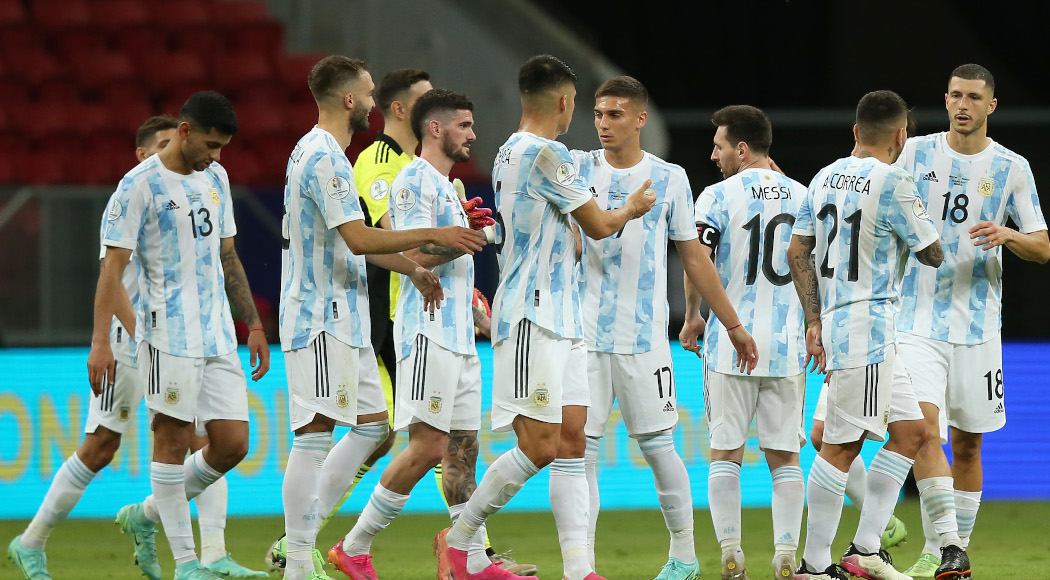 Argentina emerged as the winners in Group A. Although they were undefeated in the group, they had a hard time winning games. However, every time they managed to hold off a narrow lead. Argentina picked up 10 points from the available 12 and claimed the first spot. Although their recent 4-1 victory against Bolivia will be a huge confidence booster, their performance against big teams is still a question. However, Argentina drew a favourable quarter-final tie with a slightly weaker opponent, Ecuador.
Although Uruguay had a slow start to their campaign, they came right back and finished as runners-up. They won 2 out of their 4 games, 1 ended in a draw and the only time they suffered defeat was against Argentina. However, they have a tough task ahead as they face Colombia in the Copa America 2021 quarterfinal.
On the other hand, Paraguay finished 3rd with 2 wins and 2 losses. They won 3-1 against Bolivia and 2-0 against mighty Chile. However, they lost two of their games against Argentina and Uruguay. Paraguay will now face the group B runners-up Peru in the quarter-final.
Meanwhile, Chile who was considered as one of the favourites at the start of the tournament just managed to secure its place in the knockouts finishing 4th in Group A. They have made their title hopes harder as they drew Group B champions Brazil in its knockout tie.
Also read: Copa America 2021: 10 players to watch out for
Group B – Brazil(winners), Peru(runners-up), Colombia(3rd place), Ecuador(4th place)
The defending champions Brazil ripped apart every team which came in their way. Brazil sealed its Copa America 2021 quarterfinal spot as Group B winners. However, they were very close to a flawless run but were held off by Ecuador in a 1-1 draw. Much like Argentina, they notched up 10 points from the available 12. Brazil will now face Chile in the quarterfinals. Although Chile finished 4th in Group A, they are still a very dangerous team.
Also read: Brazil Coach Tite fined $5000 for criticising Copa America
The previous edition's runner-up Peru is also this year's runner up but only in the group stage for now. They secured their knockout spot scoring 7 points with 2 wins, 1 loss and 1 draw. Their only loss came against Brazil on matchday 2. Peru will now face Paraguay on Saturday in the quarter-final tie of Copa America.
One of the favourites coming into the tournament Colombia had a very disappointing group stage campaign. They just managed 4 points in 4 matches with just a single win and a draw. They lost their other two games against Brazil and Peru. Colombia will now face Group A runners-up Uruguay in their quarter-final clash. However, it is expected to be a clash of giants similar to Chile and Brazil.
Ecuador qualified on the final day after they managed to hold off Brazil for a 1-1 draw. Their performance was utterly disappointing as they failed to win a single group stage game. Ecuador qualified with 3 points on the back of three draws, however, lost one of their games against Colombia. They have a huge challenge ahead as they face tournament favourites and Group A winners Argentina in their quarter-final tie.
Copa America 2021 Quarterfinal: Schedule, fixture and timings:
Matchday 11
Saturday, July 3: Peru vs Paraguay – 2:30 AM IST
Saturday, July 3: Brazil vs Chile – 5:30 AM IST
Matchday 12
Sunday, July 4: Uruguay vs Colombia – 3:30 AM IST
Sunday, July 4: Argentina vs Ecuador – 6:30 AM IST
Also read: Copa America winners list of the last 10 editions