It is very hard to play football without tough tackles and touches. That is the reason almost every player has seen the yellow card at least once in their career. Footballers with zero red cards are one of the rarest things in the sport. This article focuses on those players who may have been booked but were never shown the red card in their careers.
Footballers with zero red cards:
1. Michel Platini
Michel Platini had an incredible career. He is one of the greatest players to play the game. He was also the top goal scorer in Euro 1984. Platini also won the Ballon d'Or three times, in 1983, 1984 and 1985. Moreover, he is also one of the footballers with zero red cards in his career.
The French international made a total of 652 appearances during his career both with his nation and club; 580 with the club and 72 at Country but he was never shown a single red card in any one of these appearances. Although he received a total of 13 yellow cards.
Also Read Ballon d'Or 2021: Most Ballon d'Or wins by Clubs
2. Philipp Lahm
The German legend Philipp Lahm features at no.2 in the list of footballers with zero red cards to their name. Moreover, he is the only German player to feature on this list. Phillip Lahm made a total of 765 career appearances from which 652 was at club level and 113 was at International level.
Even though the German midfielder received a huge number of yellow cards during his career ( 60 yellow cards), he was never sent off.
3. Raul Gonzalez
One of the greats of the game and a Real Madrid legend Raul Gonzalez, popularly known as Raul features in this list. He was with the Los Blancos for 16 years from 1994-2010 and made 741. However, his total tally of appearances climbs up to 1044 with 942 at club level and 102 appearances at international level.
It is astonishing that he played over 1000 games but never received a single red card in his career.
Also Read: Football jersey numbers: Everything you need to know
4. Ryan Giggs
The Manchester United and Welsh legend Ryan Giggs come in at no.4 in the list. Ryan Giggs has a club record number of 963 appearances for Manchester United. He played for the Red Devils from 1991 till 2014 before retiring as a player. However, in this long span of time, he was never ever sent off the pitch.
The Welshman is one of the most decorated players in the club's history. He won two UEFA Champions League titles, 13 Premier League titles and four FA Cup titles. Giggs is now serving as the head coach of the Wales national team.
5. Andres Iniesta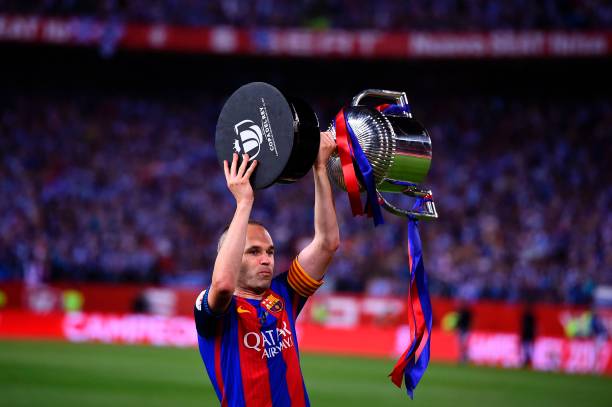 The FC Barcelona legend Andres Iniesta often considered as one of the nicest players in the world is the second Spanish international to feature in the list. He is now 37 years old and played for Barcelona for the majority of his career and now plays for Vissel Kobe in Japan.
He made a total of 674 appearances for the club and 131 for the Spanish national team. But he was never shown a single red card in his career.
Also Read: Andres Iniesta: Who has won the most trophies for FC Barcelona?
6. Karim Benzema
Karim Benzema is the second French international to feature in this list after Platini. The French International has been playing for the top La Liga club Real Madrid since the year 2009 but before coming to Spain, he had already played for five years in the French League with Olympique Lyonnais and he made 148 appearances for the French club.
He is the only active player in Europe's top 5 leagues who has been never sent off the pitch. However, his appearances are still counting and he will look to maintain the record.