The recent defeat of Manchester United against Wolves at Old Trafford on Monday was their first loss since 1980. With the 1-0 defeat, it broke the 40-year-old undefeated record against their opponent. Manchester United's unbeaten run under Ralf Rangnick was cut short after their recent defeat.
The Red Devils have failed to capitalize over the lower-level teams as each of them managed to get some result out of their respective fixtures; just last week they drew 1-1 against Newcastle and were branded "a bunch of whinge bags" by Gary Neville for their effort.
What went wrong against Wolves?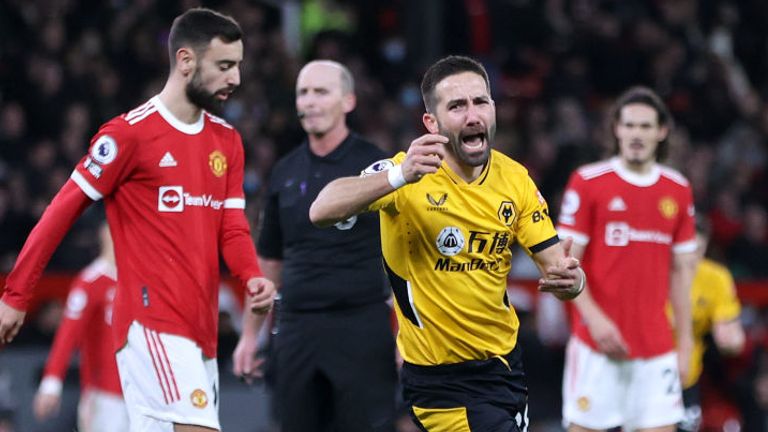 Wolves were fearless against their opponents. They managed to make 15 shots in the first 45 minutes – the most on Opta record from a visiting team in the first half at Old Trafford.
Their efforts paid the price after a quickfire play in the 82nd minute when Joao Moutinho struck a winner from outside the box. More surprisingly, he's now the oldest visiting player to score a winning goal at Old Trafford in Premier League history. However, the Wolves finished with 19 shots compared to nine for Man Utd.
What are the reactions?
"Moutinho could shoot unmarked with no problems, no pressure," Rangnick told Sky Sports. "We're very disappointed about the result and parts of our performance.
"They're playing with four or five central midfielders and we had problems controlling that part of the pitch. We decided to change our formation and we had more control – they didn't have as many chances – but we missed our chances and we have to admit they deserved to win.
"Wolves were the best team we've played. We have more problems today than in other games.
"We didn't press at all. We tried but we were not able to get into those pressing situations. They had an overload in midfield and they played via their wing-backs. We've only been working for two and a half or three weeks after needing to close the training center. We had the results. At times we played well but today we have to admit they're better than us."
The final conclusion for Manchester United?
It's quite visible that Manchester United is often struggling to play as per Rangnick's high pressing game; compared to Ole Gunnar Solskjaer's style of play. In addition to the historic result granted to Wolves, the Red Devils slumped to their fourth scoreless match of the campaign, which is already more than they had all of last season.