The Football history and present have witnessed many skillful and formidable goalscorers. Many great footballers play for their country and represent the country, but only a few can make a distinct difference and win the match. Football fans are always in search of accomplished players and there is an abundance of them. Many footballers started their journey at a very young age and some of them even achieved a lot in their careers. Here is a list of the top 5 footballers who have scored the most goals in football by the age of 21.
1. Kylian Mbappé
Kylian Mbappe has literally taken football to another level in the past few years. He creates a storm in the world of football every time he comes to play. In 2017 he made his senior debut for the French team and since then he has not looked back. He is a World Cup winner and he became the youngest French footballer to score a goal at World Cup. Also, he is the second teenager after Pele to score a goal in a World Cup final. The end of the tournament was the best for him as he finished it by becoming the joint second-highest goal scorer and also received the Best Young Player and French Player of the Year awards. He made his debut at 18 years of age and within 21 years of age, he scored a whopping 118 goals in 199 appearances.
2. Erling Haaland
The next footballer on this list with 113 goals in 164 appearances by the age of 21 is Erling Haaland. The 21-year-old is regarded as one of the best strikers in the Football world and no wonder why he is credited so. The youngster is well known for his strength, agility, and vigor on the field. In the 2019 FIFA U-20 World Cup, he was the winner of the tournament's golden boot by making a record scoring 9 goals in a single match. After this, he made his senior debut in the Norway football team in September 2019. His first senior International goal was against Austria in the year 2020-2021 UEFA Nations League B. His first international hat-trick was against Romania in a Nations League B match. He has proven himself every time and steadily became very impactful for the team, and his records also prove so.
Read also: Erling Haaland: Top 10 fastest to 20 UEFA Champions League goals
3. Sergio Agüero
Sergio Agüero, Manchester City's record goalscorer, holds the third position on this list with the most goals in football. In 213 appearances by the age of 21, the Argentina forward player has scored 84 goals. He is the youngest debutant to play for the Primera Division at 15 years and 35 days. He made his debut in the senior Argentina team in 2006. The 33-year-old has played for several clubs in his senior career.
From 2003-2006 he played for Independendiente. His extraordinary performances opened his road into the Atletico Madrid in 2006 for €23 million transfer. In the span of 2007-2008, he scored 27 goals in 50 matches, and then he moved on to Manchester City in 2011 and played for a decade over there. In 2021 he transferred to Barcelona. Agüero is Argentina's all-time 3rd-highest goalscorer. He has a Don Balon award, Tuttosport's Golden Boy, and the World Soccer Young Player of the Year in his name as well.
4. Lionel Messi
The list would have remained incomplete without the GOAT of football. Lionel Messi enlisted his name in this prestigious list of most goals in football by the age of 21 by scoring 51 goals in 140 appearances. In the mid-2000s, a Ronaldinho-inspired player joined Barcelona. He scored his first Blaugrana goal against Albacete in May 2005. Little did people know that this player will change football history and emerge as one of the greatest players of all time. At age of 14, he shifted to Spain to prepare himself for joining Barcelona. Within 3 years of his debut in Barcelona, he established himself as one of the most impactful players of the club.
Read also: 10 biggest and unexpected football transfers of all time
In 2008-09, he played extremely well and helped the club to win the first treble in Spanish football. This win led him to his first Ballon d'Or. The next 3 seasons were extremely successful for him and he consecutively won 4 Ballons d'Or. Recently he was transferred to Paris Saint-German after playing in Barcelona for 21 years. Without any doubt, he is the all-time top goal scorer of the club with 682 goals. Messi is the winner of 6 Ballon d'Or awards, 6 European Golden Shoes, and many many more. One can never stop speaking about his achievements in Football history.
5. Cristiano Ronaldo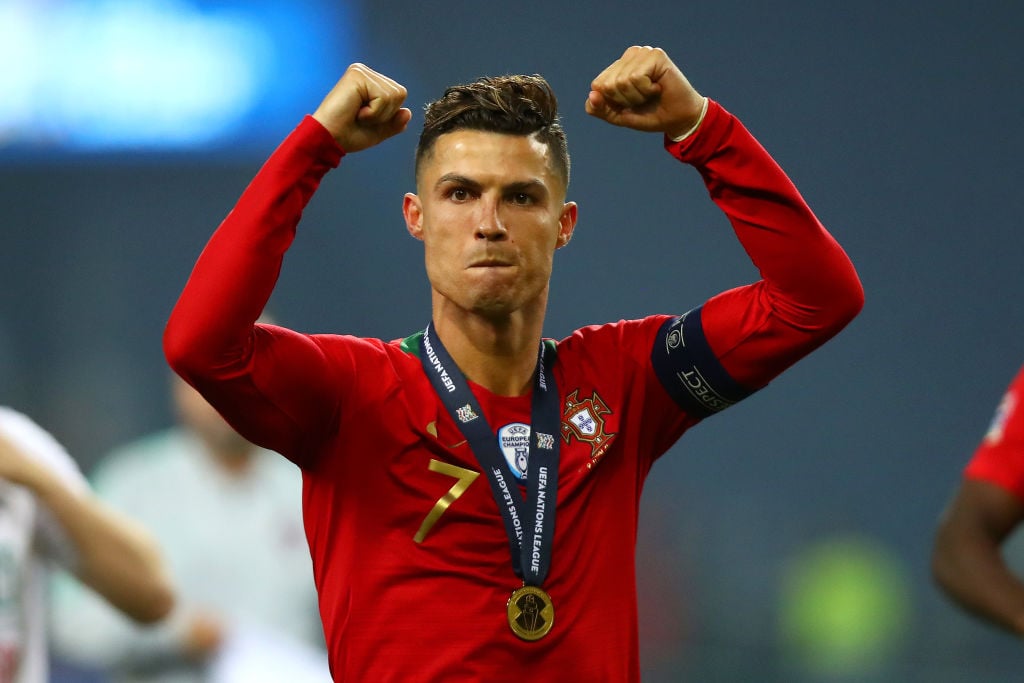 Right one step below Lionel Messi, one of his biggest rivals, Cristiano Ronaldo is sitting at the 5th position with 36 goals in 182 appearances by the age of 21. It is absolutely impossible that there will be a list of top goal scorers and Ronaldo is absent in it. No wonders why he is regarded as one of the greatest goal scorers and best players of all time. In 2003, he signed the contract with Manchester United after scoring 5 goals for Sporting. He won his FA cup in his very first season. In 2003, he made his senior debut in the Portugal National Football team.
Read also: Football Players who played with both Messi and Ronaldo
Meanwhile, he has played for Manchester United from 2003 to 2009 where one of his best seasons was 2005-06. The 21-year-old scored 9 nine goals and 7 assists in 33 Premier League games. Also, he played in Real Madrid from 2009 to 2018. In 2018, he left Real Madrid and joined Juventus. No matter which team he played in, he made sure to contribute to the team's win in every way possible. His list of achievements is endless and here we mention a few of his most precious ones. He is the winner of five Ballon d'Or awards and 4 European Golden Shoes. This is the most by any European player ever. There are 32 major trophies in his list as well. The list is infinite indeed and his contribution to football is always appreciation-worthy.
The list of most goals in football by the age of 21 –
Let us know in the comments who is your favorite?