As they say, if you want it with all your heart, you get it eventually. Pavlyuchenkova's 2021 Roland Garros' journey is proof of that. Though the dream is not fulfilled yet, surely she is very close to it. The Russian became the first player from her country to make it to a French Open final after Sharapova did it in 2014.
The No.31 seed defeated Tamara Zidansek 7-5, 6-3 in one hour and 34 minutes. The straight-set win can be a sign of her best tennis so far.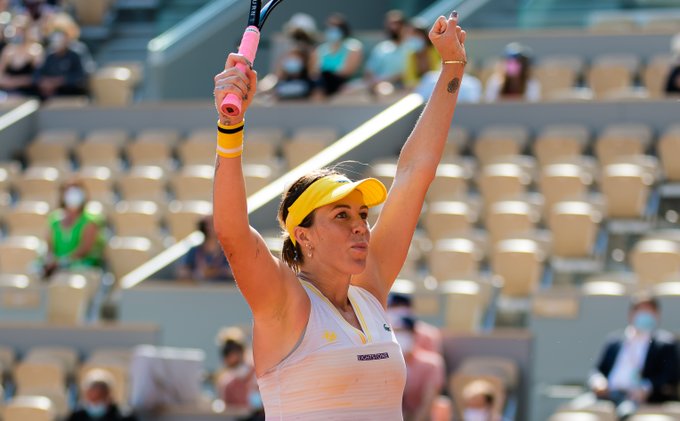 However, the journey was not that easy for the Russian. She had to wait for a 51 attempt to get to her first-ever Grand Slam final on her 52nd try. Pavlyuchenkova is now the first women tennis player to play more than 50 majors before reaching a final in 2021 Roland Garros.
The story starts from Wimbledon in 2007 when she had made her majors debut as a 15-year old kid. Though she suffered a first-round exit to Daniela Hantuchova. Till then nearly after 14 years of tennis, Pavlyuchenkova can surely smell the victory.
"Everybody has different ways. I don't know, I'm just happy I'm in the final. Trying to enjoy."- Pavlyuchenkova on her long wait for a majors final.
"Been thinking about it since I was a junior, since I was a little kid, since I started playing tennis. That's what you're playing for. That's what you want. It's been there in my head forever."

Pavlyuchenkova on winning a Grand Slam
The road to the final for Pavlyuchenkova was not that easy in 2021 Roland Garros. She defeated players higher ranked than her in the whole tournament. Even coming to the semi-final she still was the underdog. After defeating No.3 Aryna Sabalenka, No.15 Victoria Azarenka and No.21 Elena Rybakina, she looked in a comfortable space with her game.
However, Zidansek was not someone to let it go that easily. She fought for her place. Even she looked at her peak with 27 winners against her name. But it was her 33 unforced errors that gave Pavlyuchenkova the opportunities she needed to make it to the final.
"At the end of the day, I tried to stay in the match every point," the Russian stated. "I had my tactic, I knew what I had to do. So just the discipline. I was trying to follow the discipline simply."

Pavlyuchenkova on her game plan