The defending French Open Champion extended his record-breaking French Open semi-final appearances in French Open 2021. Nadal defeated Argentina's Diego Schwartzman to enter his 14th French Open semi-final in Paris. However, the win was not that easy for the king of clay. But he managed to pull out his best game in the middle part of the match.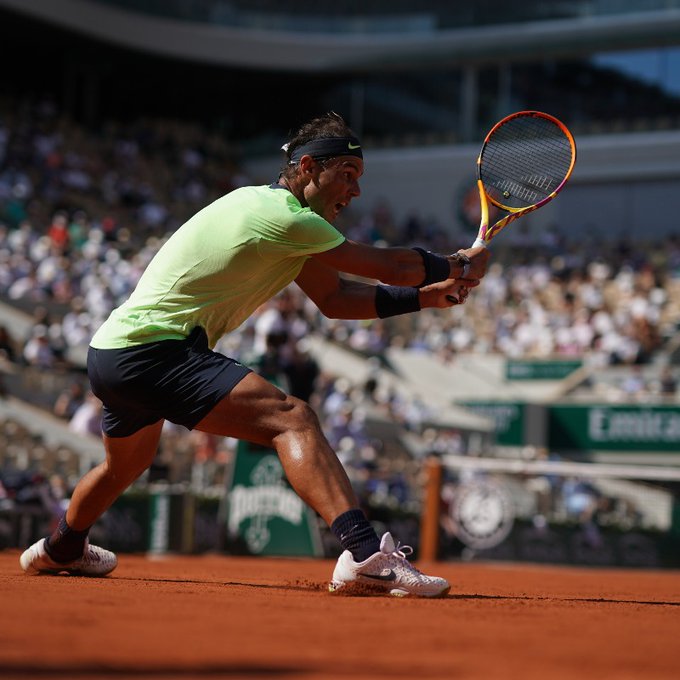 Nadal who was the 3rd seed of the French Open 2021 already has a record 13th French Open titles to his name. However, every year the critics start doubting the Spanish legend, and he keeps on wining them over and over again.
Read Also: Longest Tennis matches in history (All formats)
With Roger pulling out from the French Open 2021 due to knee injury and to give more focus on Wimbledon, Nadal might look to touch the Swiss king's Grand Slam records as well.
Read Also: Roger Federer pulls out of French Open 2021
In the semi-finals, Nadal will face the winner of Serbian top seed Novak Djokovic and Italian ninth seed Matteo Berrettini.
The four-set match with Schwartzman was not that easy for Nadal. After winning the 36th successive set at Roland Garros, everyone might have thought that would be another one-sided clay match for Nadal. But, Schwartzman was not ready to give it so easily to him.
Read Also: 10 longest winning streak in tennis history which are unforgettable
Schwartzman leveled the sets and became the first player take a set off Nadal at French Open since the 2019 final. However, that only made the king play at his best.
The third set went to the wire. The Argentine was very close to make another record at the French Open 2021. He could have became the first player after John Isner in 2011 to lead 2-1 against Nadal in Parris.
But, that was not to be the case for Schwartzman as the third set went to Nadal. Then, after that there was no looking back for the king. Nadal  just dropped five points in a one-sided fourth set and ,made to his 14th French Open semi-final.
The final score looked like –
| | | | | |
| --- | --- | --- | --- | --- |
| R. Nadal | 6 | 4 | 6 | 6 |
| D. Schwartzman | 3 | 6 | 4 | 0 |