Big-serving players have benefited throughout tennis history. One of the most advanced weaponry a tennis player may have is a powerful, well-placed first serve. While most professionals can put the ball anywhere they want, only a few are capable of reaching speeds in the upper 140s and also the 150s. Sam Groth set a new world record for the fastest tennis serve with a speed of 263.4 km/h (163.7 mph). Regretfully for the Australian, the ATP does not recognise that record because it was set at a Challenger tournament. However, We'll limit ourselves to ATP-recognized fastest serves in tennis history for the applications of this top ten.
Therefore, without any further ado, let us dive right into the topic.
10. Juan Martin del Potro – 149.1 mph (240km/h)
Juan Martin del Potro, also known as 'The Tower of Tandil', is unsurprisingly included in the list. He is the finest Argentinian player of his generation, having won the US Open.
No one struck it in the final encounter that they won out of all the players who are in the top ten except him. Del Potro claimed the Stockholm Open in 2017 after defeating Grigor Dimitrov in straight sets(6-4, 6-2). In the process, he did not forget to hit a 149.1 mph serve. However, his overall performance acquired him the 10th position in our list of Top 10 fastest serves in tennis history.
Read more: Juan Martin Del Potro: an emotional farewell to the Argentinian sensation
9. Taylor Dent – 149.8 mph (241.1 km/h)
There was a time when Taylor Dent and Andy Roddick were thought to be the two toughest servers in the game. Whilst Dent didn't have quite the same amount of achievement as Roddick, he certainly made it to the fourth round of a few Grand Slams. The only player in our Top 10 who has confirmed his mobility on Clay is Taylor Dent. He reached a career-high of No. 21 despite a career marred by ailments.
In the first round of the 2010 French Open, the American hit a 240 km/h (149.1 mph) serve that stunned the crowd. This went on to become the quickest serve in the tournament's history and landed him on this list of Top 10 fastest serves in tennis history.
8. Hubert Hurkacz – 151.0 mph (243 km/h)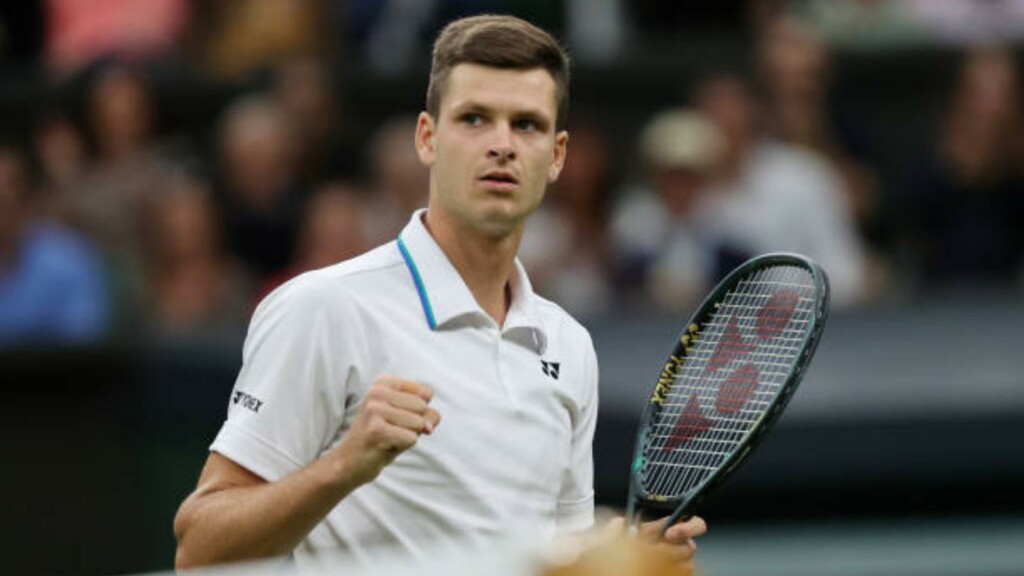 The world's No. 11 player is a 6'5″ powerhouse who can strike the ball exceptionally powerfully. His serve has been a major selling point for him, and at 25 years old, he may still be in his prime. He has won a few games at Grand Slam events, but he's yet to make a significant burst. In the 2016 Davis Cup, he did, however, hit his fastest serve ever. Hurkacz gave his teammates something to rejoice about notwithstanding his team's crushing loss in the tournament. On serve, the Polish let the ball fly, and when he gazed, the speedometer read 243 km/h.
Read more: Most Grand Slam finals in tennis history
7. Marius Copil – 151.6 mph (244 km/h)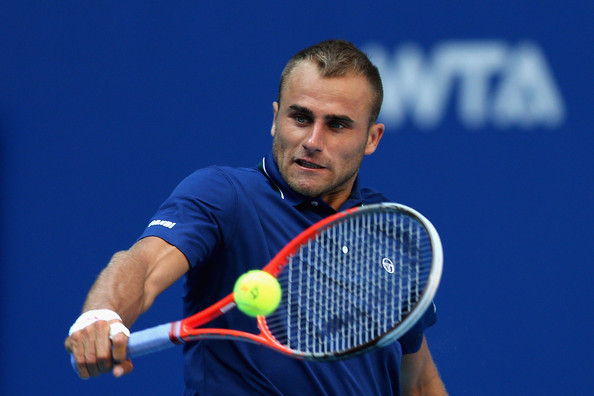 The Romanian has never made the top 50 in the world rankings, but he is actually executing some of his best performances. As a result of his outstanding performance, he completed 2018 as the 57th best player in the world. He still has the potential to burst through and have a successful career.
He has, however, always depended primarily on his serve, which has earned him a stellar record. The Romanian landed the ball perfectly in the quarterfinals of the 2016 European Open, registering a speed of 244 km/h (151.6 mph). Thus, he achieved the 7th position in our list of Top 10 fastest serves in tennis history.
6. Feliciano Lopez – 152.0 mph (244.6 km/h)
Feliciano Lopez, a Spanish tennis player, managed to reach a career-high ranking of 12 in 2015. Due to being a veteran who has been around the circuit for a long time, many people seem to have forgotten how amazing of a server Feliciano Lopez was during his heyday. He delivered one of the fastest serves ever at the Aegon Championships in 2014. The Spaniard slammed the ball to serve with a pace of 244.6 km/h (152 mph) in the opening round encounter.
Read more: French Open Winners: Last 10 years (Women)
5. Ryan Harrison – 152.0 mph (244.6 km/h)
Ryan Harrison, an American tennis player, has won one ATP singles championship in the 2017 Memphis Open, and four ATP doubles titles, along with the 2017 French Open. Having Roddick as his idol, it's no wonder that he spent a lot of time working on his serve as a kid. However, It paid him well. Harrison inscribed his name in the records as he hit a serve of 152 mph at the Western and Southern Open in 2013. He hasn't quite risen to the level of play he had hoped for, but the 29-year-old is still on the field and holds the potential to make an impact later in his career.
4. Milos Raonic – 155.0 mph (249.4 km/h)
When Milos Raonic defeated Roger Federer to win the Brisbane International in 2014, he demonstrated his whole spectrum of abilities. In 2016, he emulated the feat in the Wimbledon semifinals. Raonic is the first player from Canada to crack the top ten. He is also one of the game's most powerful servers. In 2012, his tremendous first serve helped him to tie Andy Roddick at 155 mph in the SAP Open. Afterwards, he reached a career-high rating of number three in the rankings, all thanks to his poised serves.
Read more: French Open Winners: Last 10 years (Men)
3. Andy Roddick – 155.0 mph (249.4 km/h)
Andy Roddick was the best American tennis player of his generation, and at the end of 2003, he was rated No. 1 in the world. He was a person who was known for blasting the ball and relied heavily on his serve. Andy Roddick stands a respectable 6'2″ tall among a list of giants. However, he quickly established himself as one of the top servers in the game's history and created a wonder by smashing Rusedski's world record for fastest serve in the Davis Cup semi-final against Belarus in 2004. He launched the ball at a breakneck pace of 249.4 km/h (159 mph). It wasn't until 2011 that the record was broken.
2. Ivo Karlovic – 156.0 mph (251 km/h)
In his peak, Ivo Karlovic was a fantastic server who holds the record for most career aces with about 13,000 of them. He is tied for the title of tallest player in professional tennis history, and his personal greatest record was set at the 2011 Davis Cup. Karlovic shattered Roddick's fastest serve record during Croatia's first-round of Davis Cup match. He fired an ultimate bullet of a serve at 251 km/h that fell directly on the list of records.
Read more: ATP Rankings: Top 10 Ranked Tennis Players in the world
1. John Isner – 157.2 mph (253 km/h)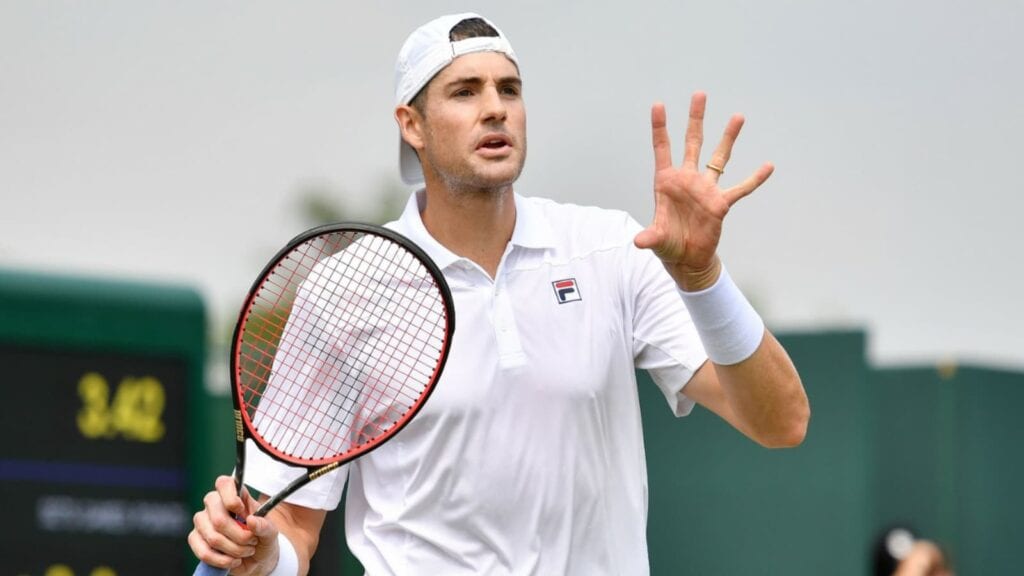 Our list of top 10 fastest serves in tennis history can't be completed without mentioning John Isner. He is often regarded as the sport's quickest consistent server, and his height plays a significant factor in his ability to strike aces. John Isner has hit many serves above 150 mph during his career, but his fastest was in the 2016 Davis Cup. In a tie versus Australia, the American unleashed lightning of a serve, setting a new world record of 253 km/h.