After few failures in the finals of the 2015 world cup final and the 2019 world cup final, finally, Kane Williamson brigade is able to lift an ICC trophy beating India in the final of the World Test Championship.

Coming to bat on the very last day, Virat Kohli and Cheteswar Pujara both showed resistance for few minutes. As the pressure was building because of the excessive dot ball percentage of Chesteswar Pujara, Virat went for few quick runs and in the course of that he edged a delivery from Kyle Jamieson trying to play square which went to the safe hands of BJ Watling. Cheteswar Pujara continued to disappoint as he edged a delivery of Jamieson to first slip. Even after playing 80 balls, he could've managed to score just 15 runs.
Read Also: Most player of the series winners in test cricket history
Finally, Ajinkya Rahane and Rishabh Pant started the much-needed survival but not before Rahane edged in front of Trent Boult adding 15 runs to the board. Indians fans were in awe when they saw three of their dependables falling cheap. But Rishabh Pant was looking handsome along with Ravindra Jadeja. New Zealand captain was impressive with his field setting as he kept many fielders fine along leg side when Neil Wagner was bowling short to both the left-handers. Neil Wagner bowled intelligently by making Jadeja stiff into the crease and suddenly delivered a ball inward which Jadeja edged to the keeper.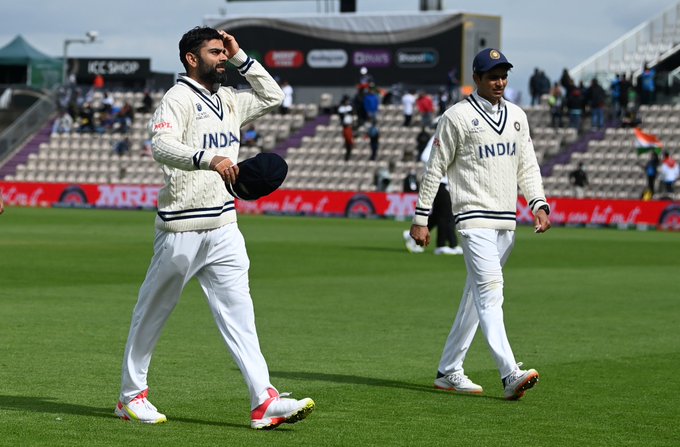 After that Rishabh Pant was going steady as the last hope India had. But even a player like him played a rash shot uppishly which went straight to Henry Nicholls. After that, it was just a timely matter of vulnerable Indian batting tail to be destroyed. Ravi Ashwin played a bad shot to first slip. Mohammed Shami played few shots to keep his personal strike rate at 130 with a score of 13 and it was a beautiful field placement from the Kiwi captain to get rid of him. India was bundled out for 170 setting a target of 139 for their Oceania based opponent.
Read Also: Most runs in Knockouts of ICC tournament

Coming to bat both the openers, Tom Latham and Devon Conway looked solid to swings of Shami, Ishant and Bumrah. Both of them played very cautiously and started disturbing the scoreboard frequently with boundaries and couples. It was Ravichandran Ashwin who removed both of them in quick succession with a turning ball to Latham and a simple off-spin to Conway. But nevertheless Kane Williamson and Ross Taylor, two experienced campaigners made batting look so easy that the dressing room was finding some positive thinking to win the cup. Indians were completely average. Not only the bowler but also the fielders were failed to covert simple chances by missing catches at slip and other position.
On the other hand, Kiwi batsmen started to overpower the Indian bowling playing few strokes. Almost 20 runs came through the leg slip region proves that how much non-constructive Indian bowling was today! Ross Taylor played a lofted shot towards square leg to find the winning runs and lifted the maiden trophy for Newzeland as the World Test Championship.

The trophy is significant for Newzeland in many ways like it was BJ Watling's last match and he ended it being a world champion. Watling gathered respect as he continued to kept even after his fingers got dislocated. Ross Taylor earlier said that he will try to be a champion before leaving the International arena and he not just did it but did it with his innings stroke. And India's disappointment continued again. They have lost to the 6th ICC knockout game in the last 6 tournaments they played. World Test Championship is the latest on the list.