After spending decades as rivals in Laliga, Lionel Messi and Sergio Ramos officially unite as teammates in PSG. Although they are very good friends off the pitch, and both of them equally respect and admire each other, things sometimes get out of hand on the pitch. Here we look at five of those occasions when both of them got into a fight.
Also Read: Every Sergio Ramos records with Real Madrid
5 times when Messi and Ramos got into a football fight
#1 Laliga: El-Classico (2019)
Ramos appeared to have swung back and catch Messi with his elbow in the El-Classico in 2019. Although this type of thing happens in a high voltage match, this action of Ramos appeared to be intentional. As a result, Lionel Messi confronted the Spanish defender and accused him of deliberately trying to injure him. However, Lionel Messi had the last laugh, as Rakitic scored the only goal in the match, and handed Barcelona a win on the enemy grounds.
#2 Laliga: El-Classico (2019)
After a ferocious tackle by Ramos, Lionel Messi lied down in pain with blood flowing out of his mouth. However, Sergio realised it and went to give a hand to the Argentine to help him get up. Surprisingly, Messi refused it and started accusing the Real Madrid captain by raising his fingers. The very next moment, Sergio Ramos slapped Messi's hand trying to remove the raised finger away from him. It drew action from Lionel as well, who got up immediately and got in a heated conversation with the Spaniard even drawing physical engagements. However, the referee got there early and stopped things from getting even worse.
Also Read: Titles won by clubs since Lionel Messi's debut
#3 Spanish Super Cup: El-Classico (2017)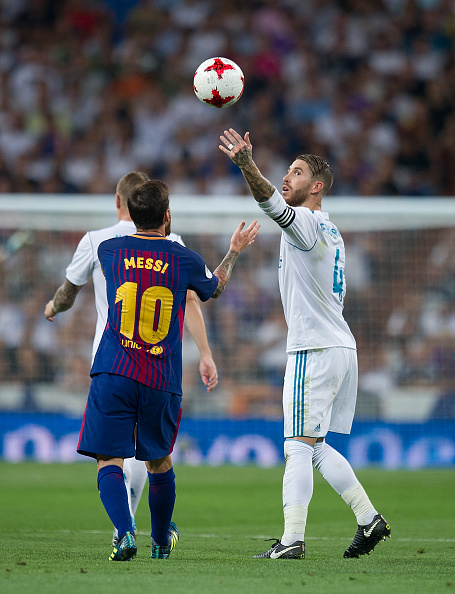 Messi hit out at rival Ramos in an X-rated blast during Real Madrid's Super Cup win over Barcelona in 2017. Lionel Messi was already frustrated at the time watching his team go down 5-1 over the two legs. Messi was very angry when the Real Madrid captain stopped him from taking a quick free-kick. Things went out of hand when the Argentine asked the ball back but instead of returning the ball back, Sergio threw the ball over his head at the last second and jogged back into position. That resulted in a reaction from Lionel Messi, who then allegedly swore at Ramos.
#4 Laliga: El-Classico (2017)
Sergio Ramos is known for his brilliant match-saving tackles. However, this was not the case here. He went all-in in this tackle and flew with both the legs aiming at Messi and took him down. Generally, a two-footed challenge ends up as a red card. It was the case with Ramos too as he was sent off by the Referee, while Messi lied down in pain due to the challenge. To add insult to injury, Messi would go on to score an injury-time winner to give Barcelona a 3-2 victory.
Also Read: Football Players who played with both Messi and Ronaldo
#5 Laliga: El-Classico (2010)
Sergio Ramos was twice sent off for his challenges on Leo. The first came in 2010 during a famous match where Barcelona thrashed Real 5-0 at the Nou Camp. In the final minutes of the game, an already frustrated and angry Ramos lashed out at the Argentine in a dangerous way. He ran up to his side and ferociously kicked his left leg. It was a no-brainer for the referee as the Spaniard was shown the red card right away.