Europe has the best and the toughest club competition in the world. The only thing which separates an elite club from a normal club is the Champions League title. Clubs all around Europe dream of winning this competition. Clubs with the most champions league titles earn more bragging rights than the others. So, this time we look into the top clubs that have won the most number of champions league titles in the tournament's history.
Champions League Winners List in last 20 years
Top clubs with most champions league titles (3 or more)
1. Real Madrid CF (13 UCL titles)
Everyone considers Real Madrid C.F. as the most successful club in world football. This club has achieved great heights both in recent times and in the past. Real Madrid won the first-ever European cup in 1955-56 which was also the founding year of the competition. Back then it was formally known as the European Champion Clubs' Cup. The current format has been around since 1992. Real Madrid has won 13 UEFA champions league titles which is more than any club in the world. They won it five consecutive times in the first five seasons of the tournament. The recent achievement includes a three-peat of winning the UCL under Zinedine Zidane (2015-16, 2016-17 and 2017-18). Cristiano Ronaldo was their star performer with the most impact in the competition. He further tops the chart of the most goal scorer and assists provider in the competition as well.
Also Read: Ronaldo records: Only player to be top scorer of the season in three different leagues
Real Madrid CF's Title winning years
Winning Year
Opponent Team
Scoreline
Venue
1955-56
Reims
4-3
Paris
1956-57
Fiorentina
2-0
Madrid
1957-58
AC Milan
3-2(AET)
Brussels
1958-59
Reims
2-0
Stuttgart
1959-60
Frankfurt
7-3
Glasgow
1965-66
Partizan
2-1
Brussels
1997-98
Juventus
0-1
Amsterdam
1999-00
Valencia
3-0
Saint-Denis
2001-02
Leverkusen
1-2
Glasgow
2013-14
Atletico Madrid
4-1(AET)
Lisbon
2015-16
Atletico Madrid
1-1
(5-3) Pen
Milan
2016-17
Juventus
1-4
Cardiff
2017-18
Liverpool
3-1
Kyiv
All 13 UCL Titles of Real Madrid
2. AC Milan (7 UCL Titles)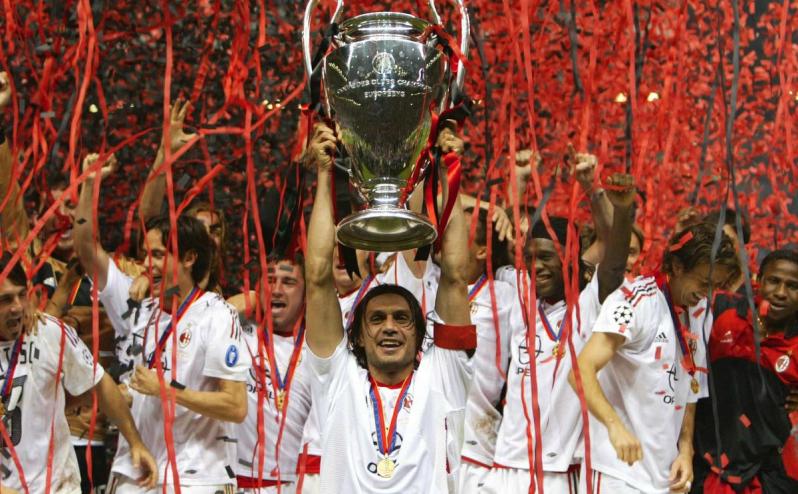 AC Milan is the Italian giants with rich history and glories. They produced players like Maldini, Dida, Nesta and many more. They dominated world football in the past few decades, but things have changed drastically since then. Milan has fallen from the folds of great clubs in recent times but their UCL glory is still more than others just behind Real Madrid. They have beaten the likes of Juventus, Liverpool, Barcelona to win the champions league in the past. But this year AC Milan are back in the mix and have qualified for the UCL after 7 straight years. Zlatan and Co. are looking forward to the upcoming season and are serious title contenders both in the domestic league and UCL.
AC Milan's Title winning years
Winning Year
Opponent Team
Scoreline
Venue
1962-63
Benfica
2-1
London
1968-69
Ajax
4-1
Madrid
1988-89
FSCB
4-0
Barcelona
1989-90
Benfica
1-0
Vienna
1993-94
Barcelona
4-0
Athens
2002-03
Juventus
0-0
(2-3) Pen
Manchester
2006-07
Liverpool
2-1
Athens
All 7 titles of AC Milan
Also Read: Most Champions League Goals In History
3. FC Bayern Munich (6 UCL titles)
Bayern Munich has been the dominant force in Europe for quite a long time. They dominate the Bundesliga and the domestic cup titles too. Recently, they have been one of the most prominent sides in Europe to deal with. Bayern humiliated Barcelona with an 8-2 defeat in the UCL quarter-finals and won the 2019-20 Champions league beating PSG comfortably. Robert Lewandowski has been their main man recently with the most number of goals. But they have consistently produced players like Robben, Ribery, Muller and others who helped them win the trebles and sextuples.
Bayern Munich's Title winning years
Winning year
Opponent Team
Scoreline
Venue
1973-74
Atletico Madrid
0-4
Brussels
1974-75
Leeds
2-0
Paris
1975-76
St- Etienne
1-0
Glasgow
2000-01
Valencia
1-1
(5-4) Pen
Milan
2012-13
Borussia Dortmund
1-2
London
2019-20
PSG
0-1
Lisbon
All 6 titles of FC Bayern Munich
4. Liverpool FC (6 UCL titles)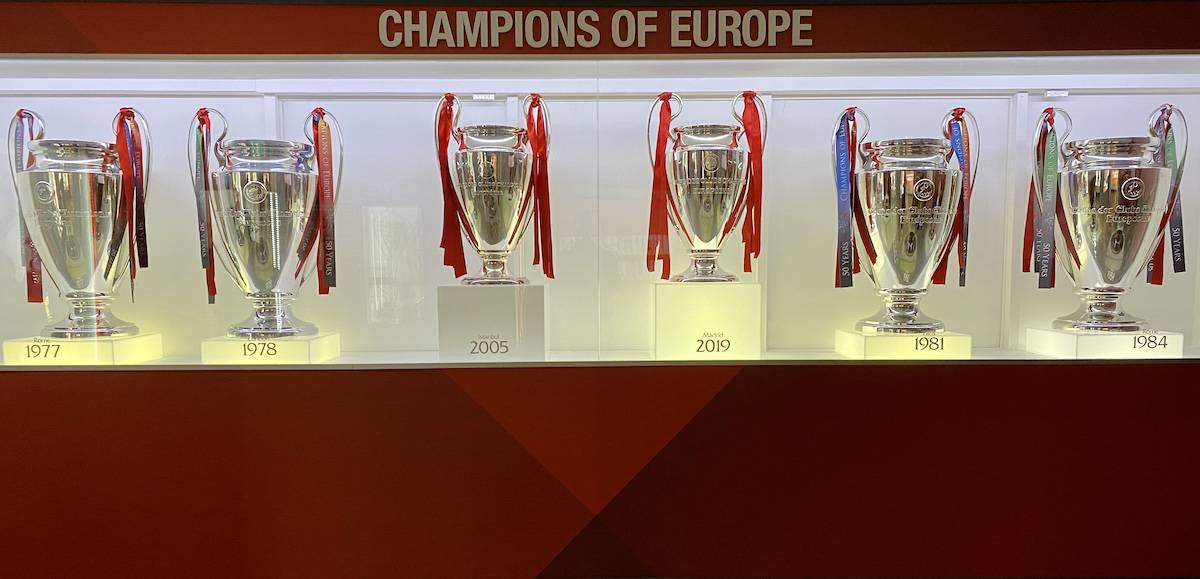 Liverpool has turned the tables beautifully in recent times. They were a great force in the European competition but suddenly went numb. Liverpool had a rough patch where they went trophyless for many years. With the appointment of Jurgen Klopp as manager, Liverpool slowly redeemed themselves. In the 2017-18 season, they reached the UCL finals but failed to win against Real Madrid. Next season they came back stronger, from a 3-0 defeat in the first leg to win 4-0 in the second leg and knocked Barcelona out of the UCL semis. Liverpool went on to be the champions defeating Spurs 2-0 in the all English final to win their 6th UCL trophy. The great comeback against Milan in 2005 at Istanbul still gives goosebumps to every football fan.
Liverpool's Title winning years
Winning year
Opponent Team
Scoreline
Venue
1976-77
Monchengladbach
3-1
Rome
1977-78
Club Brugge
1-0
London
1980-81
Real Madrid
1-0
Paris
1983-84
Roma
1-1
(2-4) Pen
Rome
2004-05
AC Milan
3-3
(2-3) Pen
Istanbul
2018-19
Spurs
2-0
Madrid
All 6 titles of Liverpool FC
5. FC Barcelona (5 UCL Titles)
FC Barcelona one of the biggest clubs in Europe have a great history in the UCL. They have won the title 5 times, while three of them came in the last decade. The famous Lamasia – The FC Barcelona academy produced world-class players at the time. Players like Andres Iniesta, Lionel Messi, Sergio Busquets, Gerard Pique and many more were a part of the academy. Coach Pep Guardiola conquered the world with some beautiful football. He managed to win both the Treble and Sextuple during his reign. A few years later Luis Enrique guided them to their 5th UCL title and also a treble. That was Barcelona's last high run in the UCL. After that, they have had some problems. Since then, they faced heavy defeats against Roma, Juventus, Atletico Madrid, Liverpool, Bayern Munich in their knockout phases.
Read Also: Top 10: Most Free-kick Goals In Football History
FC Barcelona's Title winning years
| | | | |
| --- | --- | --- | --- |
| Winning Year | Opponent Team | Scoreline | Venue |
| 1991-92 | Sampdoria | 0-1(AET) | London |
| 2005-06 | Arsenal | 2-1 | Saint-Denis |
| 2008-09 | Manchester United | 2-0 | Rome |
| 2010-11 | Manchester United | 3-1 | London |
| 2014-15 | Juventus | 1-3 | Berlin |
All 5 Titles of Barcelona
6. Ajax (4 UCL Titles)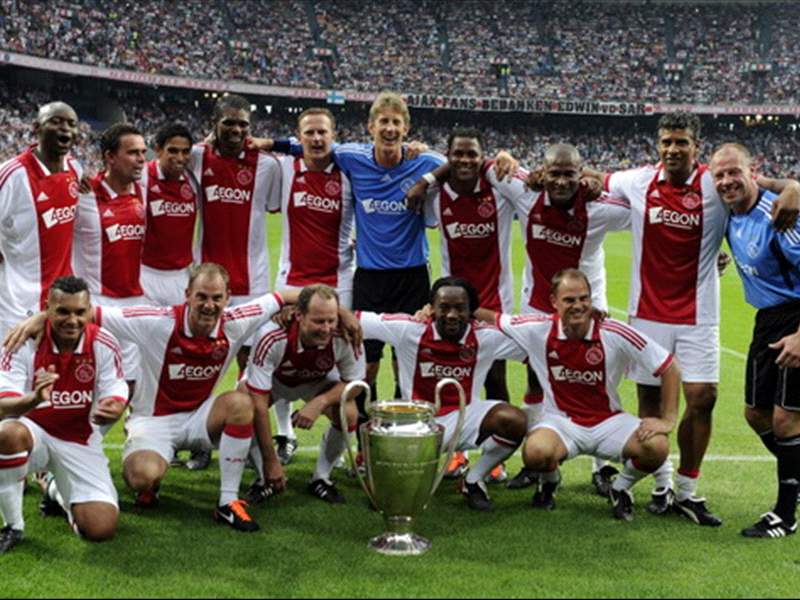 AFC Ajax has a great history. They are the only team to win the UCL 4 times which is not from the top 5 leagues. Football maestro Johan Cruyff was from this team, who later changed the definition of playing football. Introducing Tiki-taka football to the world, Ajax had a great run in the past. He later influenced Barcelona to play that type of football which brought them huge success in the end. They last won the title in 1995 when the likes of Van der Sar, Rijkaard used to play for them. Since then they have reached the UCL semifinal in 2019 upsetting big teams and then losing to the Spurs in the semifinal in the dying minutes. Ajax's run is considered as one of the greatest underdogs run in the history of the UCL. This team produced players like De Jong, De Ligt, Ziyech and others.
Ajax's Title winning years
| | | | |
| --- | --- | --- | --- |
| Winning year | Opponent Team | Scoreline | Venue |
| 1970-71 | Panathinaikos | 2-0 | London |
| 1971-72 | Internazionale | 2-0 | Rotterdam |
| 1972-73 | Juventus | 1-0 | Belgrade |
| 1994-95 | AC Milan | 1-0 | Vienna |
All 4 titles of AFC Ajax
7. Manchester United (3 UCL Titles)
Manchester United one of the greatest clubs in the world has won 3 champions league titles. They looked like the best team in the world during their reign. Players like Beckham, Ryan, Rooney were part of the golden team when united lifted their 3rd European title. Sir Alex Ferguson, the manager of this team is one of the greatest ever in the history of the sport. He introduced one of the recent footballing greats Cristiano Ronaldo for the first time in top-flight football. Manchester United has also won the treble and enlisted themselves in an elite list in World Football. Since then they qualified for two champions league finals and faced defeat against FC Barcelona.
Read Also: 10 Most FA Cup Winners List: FA cup in detail
Manchester United's Title winning years
Winning Year
Opponent Team
Scoreline
Venue
1967-68
Benfica
4-1(AET)
London
1998-99
Bayern Munich
2-1
Barcelona
2007-08
Chelsea
1-1
(6-5)Pen
Moscow
All 3 titles of Manchester United
8. Internazionale (3 UCL Titles)
Internazionale won two of their three trophies back in the 1960's. Since then they have been disappointing year in year out. Their recent UCL title was in 2009-10 when Mourinho took charge. They were not the favorites in that season yet they went on to win the UCL. Jose Mourinho was emerging as one of the best coaches in the world. He played typical defensive football frustrated his opponents which created mistakes. They capitalised on those mistakes and went on to win their 3rd champions league. They beat the heavy-weights Barcelona and Bayern Munich in the final to clinch their title.
Internazionale's Title winning years
| | | | |
| --- | --- | --- | --- |
| Winning Year | Opponent team | Scoreline | Venue |
| 1963-64 | Real Madrid | 3-1 | Vienna |
| 1964-65 | Benfica | 1-0 | Milan |
| 2009-10 | Bayern Munich | 0-2 | Madrid |
All 3 titles of Inter Milan
Clubs with less than three Champions League titles:
| | | |
| --- | --- | --- |
| Teams | No. of UCL Titles | Winning Year |
| Juventus | 2 | 1984-85; 1995-96 |
| Chelsea | 2 | 2011-12; 2020-21 |
| Benfica | 2 | 1960-61; 1960-62 |
| FC Porto | 2 | 1986-87; 2003-04 |
| Nottm Forest | 2 | 1978-79; 1979-80 |
| Feyenoord | 1 | 1969-70 |
| Crvena zvezda | 1 | 1990-91 |
| Aston Villa | 1 | 1981-82 |
| Marseille | 1 | 1992-93 |
| Hamburg | 1 | 1982-83 |
| Celtic | 1 | 1966-67 |
| FCSB | 1 | 1985-86 |
| PSV | 1 | 1987-88 |
| Borussia Dortmund | 1 | 1996-97 |
Teams with less than 3 Champions League