Former Indian Captain Mahendra Singh Dhoni guided Chennai Super Kings to their 4th title in just 12 years. In spite of not performing well, Dhoni helps his team with his great captaincy skills again in the league. His presence is an extra advantage for any team for his pressure handling and calmness during the game. We all knew that MS Dhoni joined the Indian team as a Mentor for the ongoing T20 World Cup 2021 in UAE. Meanwhile, India played their first warm-up match against England last night and managed to win as they chased down 189 runs with the help of Rahul, Ishan, and Pant.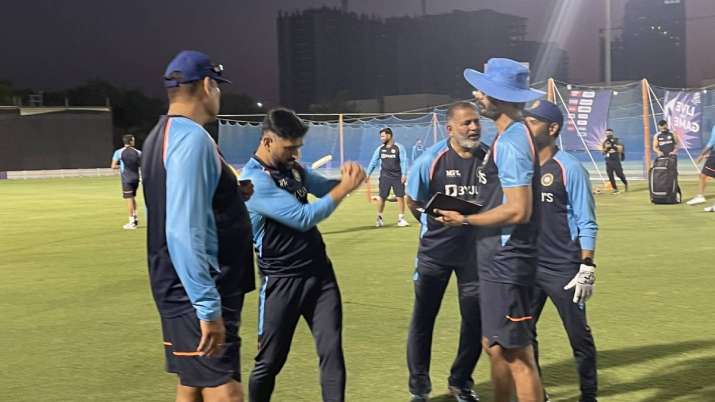 Also Read: T20 World Cup: Highest run scorers in every edition
MSD as a Mentor of team India for the T20 World Cup 2021 :
Mahendra Singh Dhoni was seen in the dugout on the last warm-up match. Meanwhile, he was seen helping the players like Hardik Pandya and Jasprit Bumrah to find their rhythm. MSD wants the senior players to be in the lead role for the upcoming T20 world cup. Moreover, MSD's game awareness and ability to control the game are excellent and that will help the team very much.
Mahendra Singh Dhoni had already won 3 ICC cups including a T20 World Cup in 2007 as a skipper. Under MSD's captaincy, India won the 2007,2011 World Cup and 2013 Champions Trophy. So, he knows the game well and will surely help the players with the upcoming challenges. He is always as calm as on and off the field. MSD doesn't make any decision without planning property before and his game awareness will help the team. So, MSD's presence will surely affect the team and will help Kohli to make important decisions during the matches and tournaments.
Read Also: Bowlers to take four wickets in four balls in T20I cricket
Mahi will help the team management to decide the best playing xi. Giving chances to youngsters and keep backing the talented players is what Dhoni loves to do. Dhoni will always stick with those talented players in spite of their bad performances and we have seen that this helps his team CSK to cup glory. He always has a plan B, C to do irrespective of the game's situations. However, it will help the team to stick to the winning ways just like Dhoni has done with CSK.
So in this way, Mahendra Singh Dhoni will guide India to the World Cup glory. It is expected that the Indian team will perform better than in previous years under Mentor Dhoni. So, let's see what India can do under Dhoni's guidance in this T20 World Cup 2021.