Despite doing well in the ICC U19 Cricket World Cup, 8 U19 stars are still ineligible for the IPL 2022 Mega Auction. India won the ICC U19 World Cup for the fifth time in West Indies. Although, 8 players of the primary squad are still not allowed to register their name in the IPL Mega auction.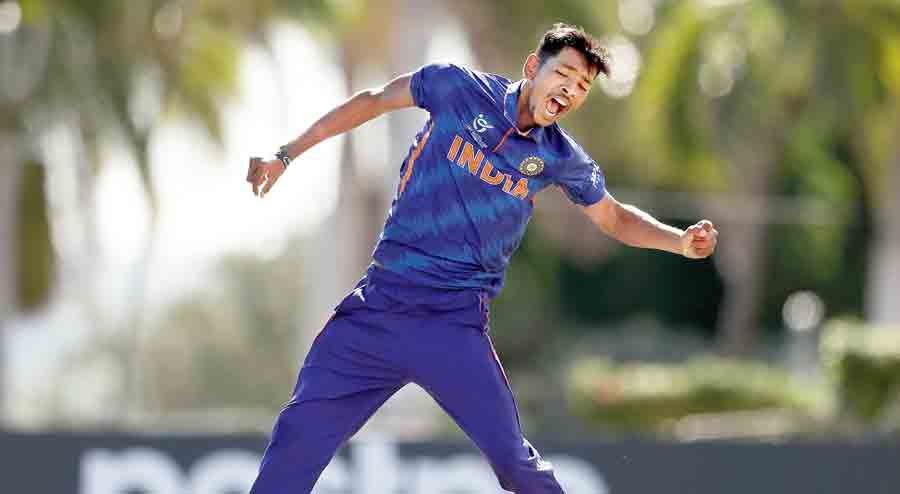 Angkrish Raghuvanshi, Manav Parakh, Nishant Sindhu, Grav Sangwan, Ravi Kumar, Siddarth Yadav, Dinesh Bana and Shaikh Rasheed are the eight players who are "Not-Eligible" to be under the hammer.
Among them, Dinesh Bana, Ravi Kumar and Shaikh Rasheed have done really well to go under the hammer. Bana played an important role as a wicket-keeper batter. Moreover, the Haryana cricketer was the man to finish the final with a six just like MS Dhoni in the 2011 World Cup final.
Read Also: Hardik Pandya to skip Ranji trophy wants to focus on white-ball cricket
Shaikh Rasheed also shone with the bat in the knockouts of the ICC U19 World Cup. Even, MSK Prasad thinks that he could be the number three batter for the future. Meanwhile, Ravi Kumar showed what a left-arm pacer with accuracy can provide to a team. His brilliant spells in the semis and the final have made Indian fans roll their eyes at the U19 star.
Read Also: "He can be India's future number 3", MSK Prasad to Shaikh Rasheed, the U19 star
But, now the question is why are said to be ineligible for the IPL 2022 Mega Auction. According to the reports of The Indian Express, if the current rules of BCCI stay they will not be able to go under the hammer in the auction.
IPL 2022 Mega Auction Rule
An uncapped player needs to fulfil the following criteria to be eligible for auction in the IPL –
The player should be over 19 years of age
If he is a U19 player, he should have represented his state team in at least one senior-level first-class game or a List A game.
All of the mentioned Under 19 players are still to fulfil the above criteria. Due to Covid, the BCCI was forced to host the U19 Tournaments with the senior tournaments. This prevented any of the U19 players to feature in their senior state teams.
Read Also: Player of the tournament in every ICC U19 World Cup
However, all of the players have requested BCCI to reconsider the rule and allow them to go under the hammer in the mega action.
"I feel the BCCI should consider this as a special case and the players should not lose out because of this. The team has done really well and they should not be deprived of the opportunity,"

BCCI administrator Ratnakar Shetty via The Indian Express.
If BCCI accepts the appeal of the players for the auction, they will have to change the rule for IPL 2022. Time will tell if these youngsters get what they deserve.