This is Women In Sports, the second episode. If you have not checked out the first episode, you can check it out here. Gender discriminations, gender equality, and other social issues have always challenged women around the world. Sport is another discipline where women have been facing gender barrier issues for a long. However, few spirited, determined women have made it in their discipline to inspire generations. SportzPoint brings stories of those inspiring women weekly to inspire every woman to have another crack at their goal. In this episode, we will take about "Female Soccer Players Who Inspired The World".
Female Soccer Players Who Inspired The World
#1 Megan Rapinoe (USA)
Megan is a two time FIFA Women's World Cup Winner (2015, 2019), an Olympic Gold Medalist (2012), one time Ballon d'Or Féminin winner and an activist.
Mostly known for her style of play Megan is a star of the United States women's national soccer team. She is the only player male or female to score a goal directly from the corner in the Olympics. Megan's assist at the 2011 FIFA Women's World Cup quarterfinal match against Brazil was adjudged as Best Play of the Year by ESPN.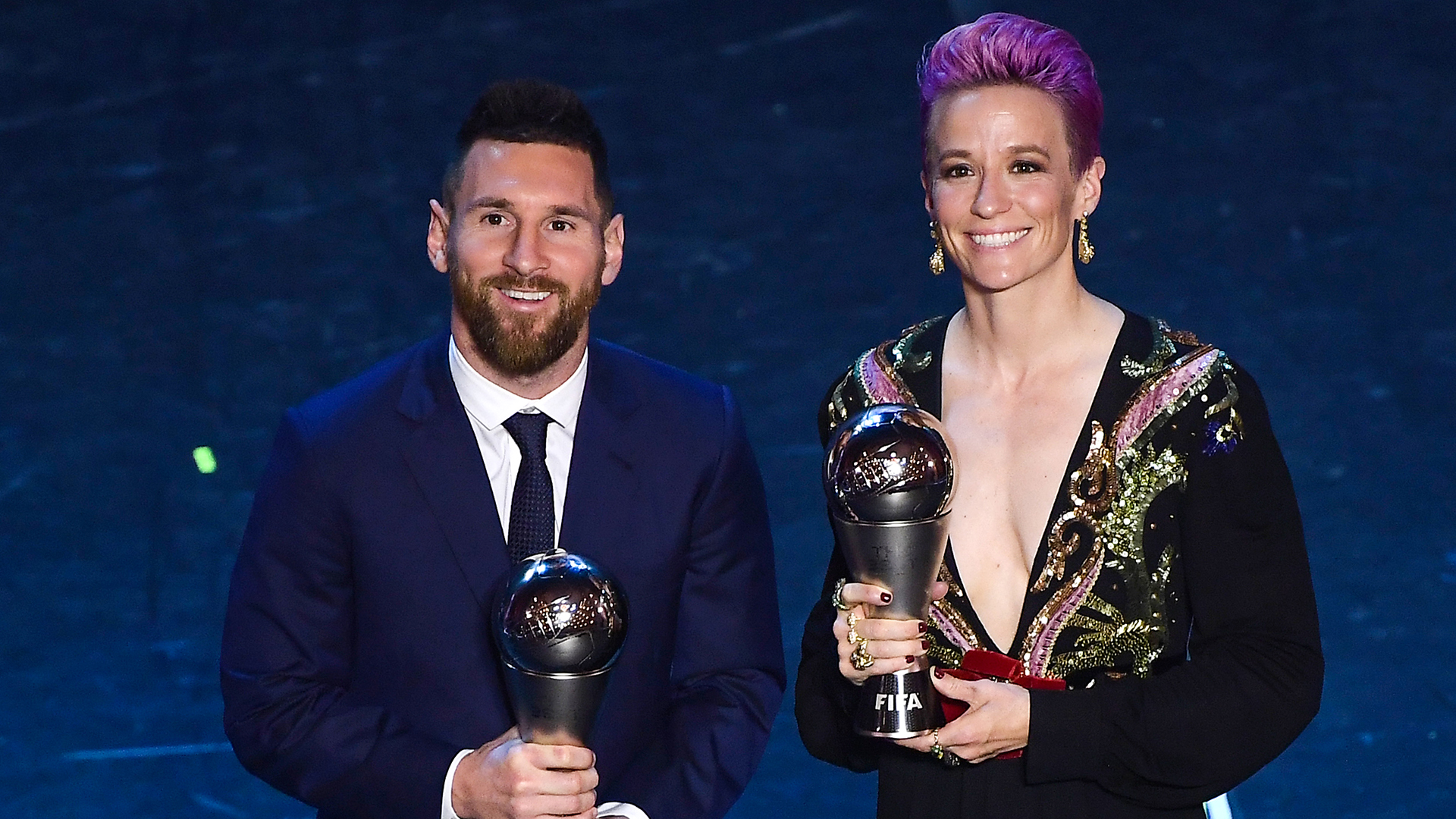 Megan has always fought for what she felt right. Her association with LGBTQ communities and Athlete Ally is quite commendable. She took a knee during the national anthem at an international match in September 2016. It was in solidarity with NFL Colin Kaepernick.
Megan Rapinoe & Sue Bird makes one of the most powerful couples in the sports industry. Recently, she took the U.S. women's national soccer team's battle for equal pay to the White House. She said, "I have been devalued, I've been disrespected and dismissed because I am a woman", despite her success with the USA Women's Soccer Team.
"Despite all of the wins, I am still paid less than men who do the same job that I do. For each trophy — of which there are many — for each win, each tie and for each time that we play, it's less."

Megan on equal pay in front of USA President Biden and first lady Jill Biden
Read Also: 10 Inspiring Indian Sportswomen: International Women's Day Special
#2 Marta (Brazil)
Marta- the greatest ever female soccer player. In a country with footballers like Pele, Ronaldinho, Ronaldo, Kaka, Marta is the highest goal-scorer for Brazil (male or female). She is also the record holder for the most number of goals in the FIFA Women's World Cup.
She was called the "Pele in skirts" by Pele himself. However, Marta is always criticized for not winning a World Cup or an Olympic Gold Medal. But, that never stopped her from working hard. Perhaps, that inspired her to win her sixth FIFA Best Player Award in 2019.
Marta's engagement gave Brazilian LGBT community strength in fight against homophobia.
Marta has always worked for the betterment of women soccer in Brazil. Her famous speech post the elimination from the 2019 World Cup have inspired many around the globe to take up the sport as a woman.
"Women's football depends on you to survive," (with tears in her eyes). Think about it, value it more. It's about wanting more, it's about training more, it's about looking after yourself more, it's about being ready to play 90 minutes and then 30 minutes more. So that's why I am asking the girls. There's not going to be a Formiga forever, there's not going to be a Marta forever, there's not going to be a Cristiane. We are trying to represent women and show how women can play any type of role."

Marta's speech via Goal.com
Read Also:- Most Grand Slam Titles in Women's Tennis (active players) 2021
#3 Ada Hegerberg (Lyon & Norway)
If we consider women clubs in the world, Lyon Women are the best club in the world. Moreover, Ada Hegerberg is the most prominent player in the world right now.
Ada was the first-ever recipient of the Ballon d'Or Feminin in 2018. Along with that she also has four Women's Champions League titles, five Division 1 Feminine trophies and three Coupe de France awards.
But all of these awards does not establish her position in this list of "Female Soccer Players Who Inspired The World". It is her incredible fight for gender equality that sets her up different from others. Ada stepped out from participating in the 2019 FIFA World Cup. She did not want to play for the Norway national team until they solve the gender equality issues.
"I've always respected men's footballers for what they earn. The gap is enormous, but at the same time you need to give young women and girls the same opportunity as the men. That's where we need to do the change,"

Ada Hegerberg on why is did not participate at the 2019 FIFA World Cup for the Norway Women's Team
And, the most beautiful part is, she is still fighting.
Read- Women In Sports: Female Coaches In PRO Baseball and MLB
#4 Mia Hamm (USA)
Probably the first star in Female Soccer, Mia Hamm was the highest goal-scorer in the international circuit- male or female until 2013.
A two time Olympic gold medalist (1996, 2004), two time FIFA World Cup winner (1991, 1999), Mia has scored 158 goals for the USA team. She was named FIFA Female Player of the Year in 2001 and 2002.
Mia Hamm is one of the most influential women in sports. She co-founded the Women's United Soccer Association which then became Women's Professional Soccer in 2003. The organisation was the first-ever female women's pro league in the world. They use Hamm's silhouette in their logo which proves the significance of her in women's football.
It was Mia Hamm who inspired millions of girls in USA to take up sports and represent USA in their departments.
I am building a fire, and everyday I train, I add more fuel. At just the right moment, I light the match.

Mia Hamm on her inspiration to score more goals
Her foundation, Mia Hamm Foundation raises funds and awareness for families needing marrow or cord blood transplants and develops and promotes programs for young women in sports.
Buy the book- Women in Sports: 50 Fearless Athletes Who Played to Win (Women in Science) By Rachel Ignotofsky
#5 Eni Aluko (England & Juventus)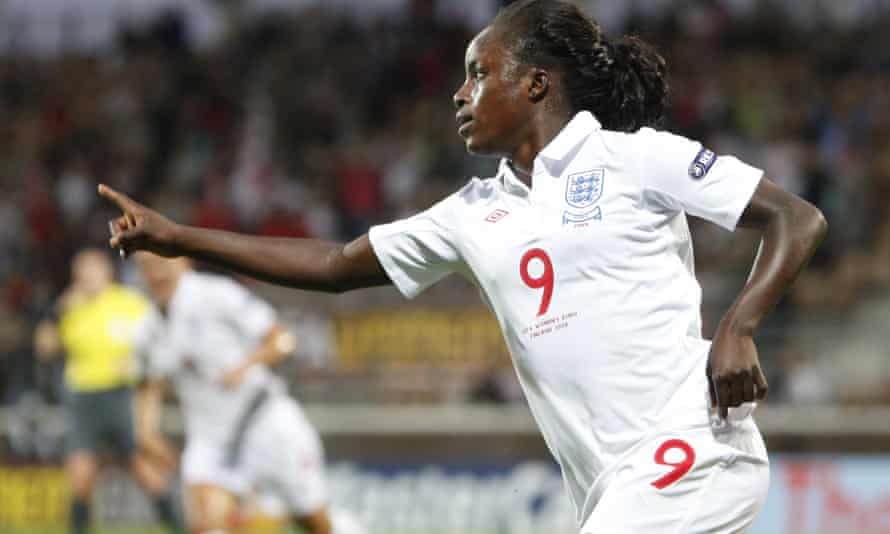 If any of the female soccer players resonate with the word "fight", it is Eni Aluko. A prolific striker for the England team, Aluko finished her career at the Juventus Football Club in 2020. Aluko played 102 matches for the England team. She won five FA Cups and three English league titles.
Aluko's fighting spirit came to life when she accused ex-England coach Mark Sampson of racism. Post that allegation, she was sacked from the National Team in 2016 and never was called back.
However, she kept on fighting for her rights as she left England and went onto join Juventus. In her book "They Don't Teach This" she explains how she fought her way out in a male dominant world as a female football player. She is now working as a pundit and also regularly writing in the Guardian.
In 2020, former England coach Mark Sampson came out publicly and apologized to Aluko for passing racist comments in the dressing room.
Aluko now works as a commentator and pundit at various soccer media houses. Her comment on Costa Rica's playing style at the 2018 FIFA World Cup became very famous as she went on to become one of the most inspiring female athletes.
We hope our series, "Women in sports" will give inspiration to many young girls out there to fight for their rights, and fight for their dreams.
Follow us on our various social media platforms until the third episode.
Also, Sign Up for our newsletter to get all the latest updates directly to your mailbox.