The second string team of India will be facing the host country in Sri Lanka from 18 July 2021. The Indian team will be playing a 6 match white ball series against the Sri Lankan team. The series will be comprising 3 ODI matches and 3 T20I matches. The reason for selecting new cricketers in the squad is that the experience and First choice Indian players will be playing against England in a Test series. It is always exciting to see what the cricketers on the field can do within the given time in limited-overs. Many pass cricketers have proved themselves way too many times I have scored thousands of runs for the team in different matches. Right before the series between India vs Sri Lanka starts, let's take a look at the most runs in ODIs in India vs Sri Lanka series.
Read also: India vs Sri Lanka: Who should be the opener with Shikhar Dhawan?
1. Sachin Tendulkar
The batsman with the most runs in ODI among all the players of both teams is Sachin Tendulkar. Not only this, but the God of Cricket is also the highest scorer of runs in ODI history. The former Indian captain played in 84 matches against the island nation and scored a total of 3113 runs. Also, he is the only player from both teams who has crossed the mark of 3000 runs. His statistics in ODIs against Sri Lanka include 17 half-centuries and 8 centuries with an average of 43.84.
Read also: 7 highest scores in ODIs by a batsman
2. Sanath Jayasuriya
The Sri Lankan batsman with the most runs in ODI is Sanath Jayasuriya. The former captain of the Sri Lanka cricket team is regarded as one of the best-attacking batsmen during his time. His stunts in winning matches and using powerful striking skills are something that made him famous and what he is today in cricket history. Against India, he has played in 89 matches and scored 2899 runs where the highest score was 189. His total score included 14 half-centuries and 7 centuries with an average of 36.23.
3. Kumar Sangakkara
The third batsman with the most ODI runs between India and Sri Lanka is Kumar Sangakkara with 2700 runs in 76 matches. He is one of the finest and best batsmen cricket ever had. His contribution has been always helpful to the team. In 14 years, he has played in 76 matches against India in ODIs with an average of 39.70 with 18 half-centuries and 6 centuries.
Read also: 8 most successful openers in ODIs since 2013
4. Mahela Jayawardene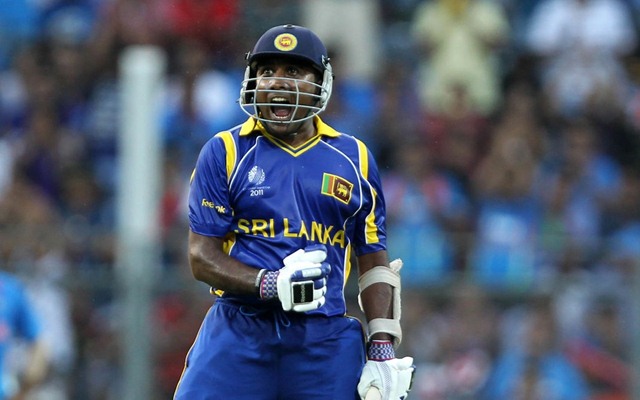 The next cricketer on this list is from Sri Lanka, Mahela Jayawardene. The legendary batsman is considered as one of the best batsmen cricket ever had and also the most successful captain of Sri Lanka. He spoke both with his captaincy and his bat. He was one of the pivotal cricketers of the Sri Lankan team and always had a huge hunger for runs. In 16 years, he played in 87 matches against India and scored a pile of 2666 runs. His highest score in ODIs has been 128 against India. His statistics in ODIs against India is 17 half-centuries and 4 centuries with an average of 35.07.
5. Mahendra Singh Dhoni
The next Indian cricketer on this list of most run in ODI in India vs Sri Lanka series is the former Indian captain Mahendra Singh Dhoni. Dhoni played in 67 matches against Sri Lanka and piled up 2383 runs. His highest individual score in ODI is 183, that too against Sri Lanka. This is also the highest individual score in ODI matches by a wicketkeeper-batsman. In the first year of his international cricket career in 2005, he scored such impressive runs against Sri Lanka. Every contribution of this legend is appreciated and proved to be very beneficial for the team but his biggest match against Sri Lanka has been for the 2011 world cup final where Dhoni scored threshing 91 runs and defeated the island country.