Maana Patel, the 21-year-old backstroke swimmer from Ahmadabad becomes the first Indian female swimmer to qualify for Tokyo Olympics. She is now the third Indian swimmer to qualify for the Tokyo Olympics 2020.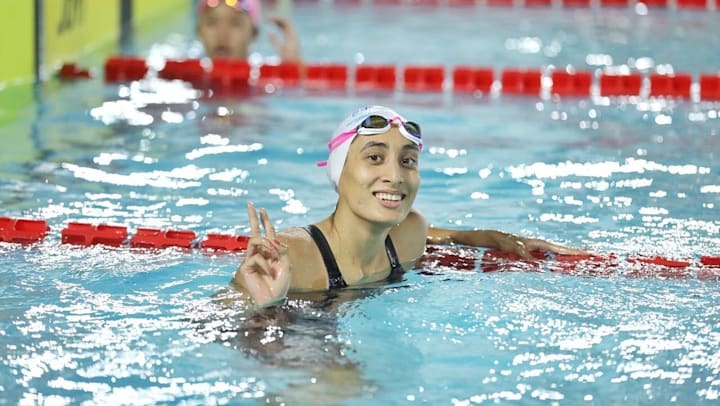 Srihari Natraj and Sajan Prakash are the other Indian swimmers to qualify for the Tokyo Olympics 2020. They had qualified through Olympic Qualification Timing (OQT) by securing the 'A' level.
Read Also: Indian Athletes Qualified for 2020 Olympics in Tokyo: In Detail
Meanwhile, Maana Patel qualified through the university quota. Swimming Federation (SFI) of Indian has confirmed that Maana Patel will participate in 100 metre backstroke competition in Tokyo.
According to university quota only one male and female can participate in the Olympics, provided that no one from that country has qualified in that category.
Maana Patel and Srihari Nataraj were nominated for the universality slots. It was Srihari who achieved the Olympic Qualification Time (OQT) to secure a direct place at Tokyo 2020.
"It's an amazing feeling. I have heard about the Olympics from fellow swimmers and watched it on the tele and seen a lot of pictures, Maana told Olympics.com
Maana has also won gold medal in 100 metre backstroke at the 60th National School Games (2015). She broke the national record in backstroke that year. Maana Patel then won 3 gold medals at 72nd Senior National Aquatic Championships in 2018.
Read Also: Tokyo Olympics 2020: India's top 10 medal contenders at Tokyo
After coming back form an ankle injury Maana was looking for a comeback.
"Though the pandemic and the lockdown was a blessing in disguise as it helped me recuperate well, but then later the frustration crept in. I am not used to staying away from the water for this long."
However, the comeback was sweet for her. Maana won the gold medal at Uzbekistan Open Swimming Championships in April earlier this year. She clocked 1:04.47 in the 100 metre backstroke.
Though this is a very proud moment for her and Indian swimming, Maana is looking to take this as an experience. She wants to do well in Asian games from her Olympic experience. Perhaps it can be the biggest learning curve for her.
"I am not looking for much here, just the experience of swimming at the Olympics. The 2023 season is an important year for us. I see the Commonwealth Games and the Asian Games as a real opportunity for a podium finish,"

Maana on her Olympic berth