The wait is over and the biggest sporting event is very near. It's only one month and few days before the much waited and anticipated Tokyo Olympics 2020 takes place at Tokyo, Japan. Therefor, it gives an opportunity to take a look at India's top 10 medal contender at the Tokyo Olympics 2020.
When will the Tokyo Olympics 2020 start?
Due to COVID the 2020 Olympics were postponed, and the now the Tokyo Olympics will start from 23rd July 2021. It will run till 8th August, 2021.
Indian athletes qualified for the Tokyo Olympics 2020
Till now more than 80 athletes have qualified for the Tokyo Olympics 2020. Bhawana Jat became the first Indian women to qualify in the 20-kilometre race. Meanwhile, Bhavani Dev is the first Indian fencer to qualify for any Olympics games.
Along with them, Fouaad Mirza is the first Indian equestrian to qualify for the Games in 20 years. But there were some huge disappointments also as star athletes like Saina Nehwal and Kidambi Srikant is yet to qualify. Sprinters Hima Das and Dutee Chand also failed to qualify. Though they will be performing in the 4*100 mixed relay, which has qualified for the Tokyo Olympics 2020.
Read Also: Indian Athletes Qualified for 2020 Olympics in Tokyo: In Detail
India's top 10 medal contender at Tokyo Olympics 2020
India has been doing well in the international circuit over the few recent years. The 2012 London Olympics was the best of them all. However, Rio Olympics was not that successful as every Indian thought that to be. With nearly 100 crore people (1 Billion), and talented athletes from corners of the country, India might hope for its best ever Olympic game in their history.
Therefore, in this context we present you India's top 10 medal contender at the Tokyo Olympics 2020.
#1 Saurabh Chaudhary (10 meter air pistol)
Since the times of Rajyavardhan Rathore and Abhinav Bindra, India has claimed a strong position in shooting. With 15 shooters qualifying for the Tokyo Olympics 2020, India can hope for a tally of medals from the shooting.
Recent form
Saurabh has been a consistent performer in the international arena over the last two years. In four World Cups since 2019, Sourabh has won 2 golds (New Delhi 2019, Munich 2019), one silver (New Delhi 2021) and one bronze (Rio de Janeiro 2019). Also, not to forget his silver at the 2019 Asian championships.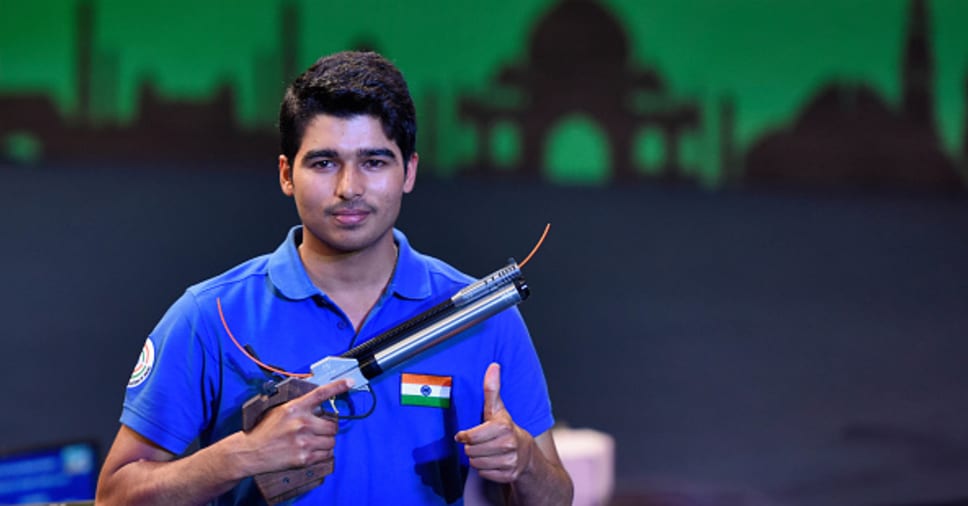 Why is he a medal contender?
Well, to be fair to him no one in Indian sports has done well like him in pressure situations. His consistency and experience of winning medals at the World Cups will surely help him, in terms of experience. Moreover, from a statistics point of view, he has made to finals of every tournament he has qualified, and this is a record itself.
#2 Bajrang Punia (Men's Freestyle 65 kg)
Bajrang is currently the biggest name in Indian wrestling. India has done well in wrestling in Olympics in recent years. Sushil Kumar has been a constant name on that list.
Read Also: Sushil Kumar: From Olympic podium to Delhi Police's Wanted criminal
The current world No.1 in his category is well above his competitors. However, he is not letting this get into his ego as he is preparing for the Tokyo games well before the tournament in Russia.
Recent form
Bajrang won the gold medal at the 2019 Asian Championships and has been competing in the world championships since 2018. In fact, he is currently India's most decorated wrestler with three Worlds medals. He is also been the World Champion on the last two occasions.
Why is he a medal contender?
If anyone from Indian wrestling can say is ready for the Olympics, although it is their first Olympics is Bajrang Punia. He is working really hard on his game and also has the capability of winning at the international level. A well known name in India might be a global superstar after the Tokyo Olympics 2020.
#3 Neeraj Chopra (Javelin)
Neeraj Chopra has been a sensation in the Indian sports since the time he threw a record 86.28m in the 2016 Junior World Championship. Ironically, if he threw that in the 2016 Rio Olympics, he might have won the Bronze medal.
Recent form
Neeraj has always shown his talent in every chance he got. Though some injuries raffled him up in 2018, he is fit and strong again to throw more than 85 consistently.
Neeraj threw 87.86m at his Tokyo Olympics qualification. Not only that he then went on to throw 88.07 at the National GP3 in 2021, setting a new national record.
Why is he a medal contender?
Consistent and confident- these are the two adjectives that go very well with Neeraj. He is above 86m. consistently. Even after returning form the injuries he has shown his capabilities of throwing above 86 mark. A near personal best might be enough for India to get its first ever medal in javelin.
#4 Mirabai Chanu (Weightlifting)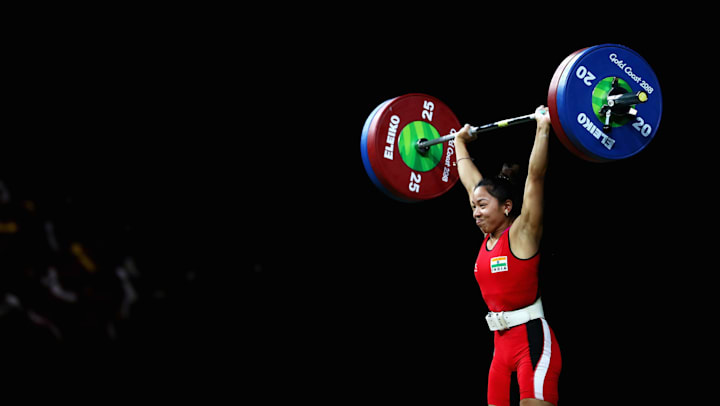 Weightlifting is a sports where India has not certainly done well enough in past Olympics. However this time the hopes are very high with Mirabai Chanu up in the rankings.
Chanu has been a constant name in the international lifting competitions. Though, she might have some not so great encounters with Olympic games. However, this time might be Chanu's year as she's been at her peak in recent years.
Recent Form
Mirabai Chany is the current world record holder in clean and jerk. Her 119 kg lift at the Asian Weightlifting Championship in Tashkent made a new world record just a few weeks ago. Not to forget her gold at the Glasgow commonwealth games in 2018.
Why is she a medal contender?
With a recent world record against her name, it is quite obvious that she would be boosting with confidence. Though, he does not have any great record at the Olympics, but she will ready ready for a sweet revenge of the Rio Olympics. Anything near her personal best can make her name into the history books.
#5 Vinesh Phogat (Wrestling, Women's Freestyle 53 kg)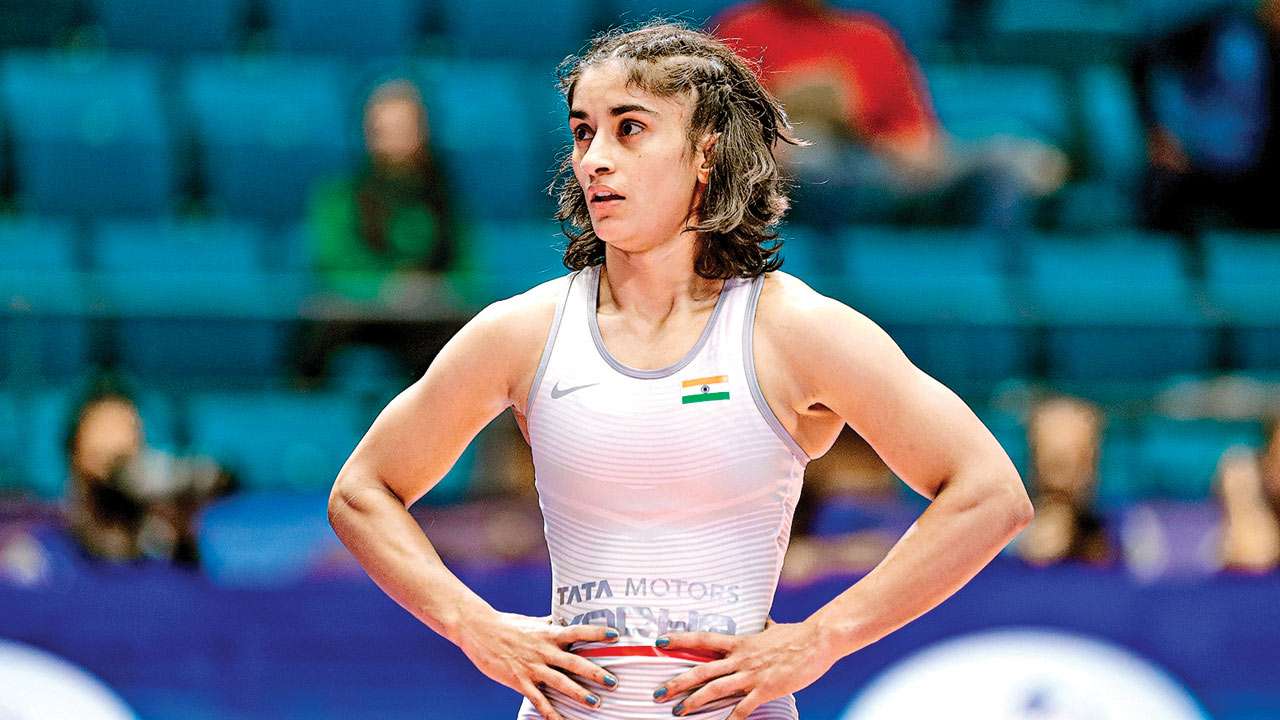 Wrestling will be on focus as India prepares to continue its glory in wrestling at the Olympics. With Bajrang, Vinesh will also be a strong contender to finish at the podium at the Tokyo Olympics 2020. She will also be ready for the Tokyo games as she had picked up an injury at the Rio last time.
Recent form
Vinesh has won in every tournament has participated in since 2018. The 2019 Worlds bronze might be her best of the all. Moreover, a recent win over the former World Champion, Vanessa Kaladzinskay at the Outstanding Ukrainian Wrestlers and Coaches Memorial in Kyiv will make her more confident as well.
Why is she a medal contender?
As North Korea has pulled out themselves from the Tokyo Olympics 2020, Vinesh will be competing in the lesser tough group. Moreover, her recent wins over most of the contenders in her category, will make her a certain medal contender at this year's olympics.
#6 Saurabh Chaudhary and Manu Bhaker (Shooting, 10m Air Pistol Mixed)
If Saurabh is not enough to win a medal at the Tokyo Games, his mixed team with Manu Bhaker might finish at the podium certainly. The 10m Air Pistol Mixed team is a very strong team with two great individual performers at the international circuit.
Recent form
In the four world cups they competed, they have won all of them. In 2019 Rio World Cup, they competed seprately and won with the different partners as well. Saurabh won the silver with Yashasvi Deswal, while Bhaker won the gold with Abhishek Verma.
Why are they medal contenders?
Two strong individuals and already multiple medals at the international level makes this team a string force to recon with. With their recent performances, and medal tally, India can surely hope for a gold from 10. Air Pistol Mixed team.
#7 Divyansh Panwar and Elavenil Valarivan (Shooting, 10m Air Pistol Mixed)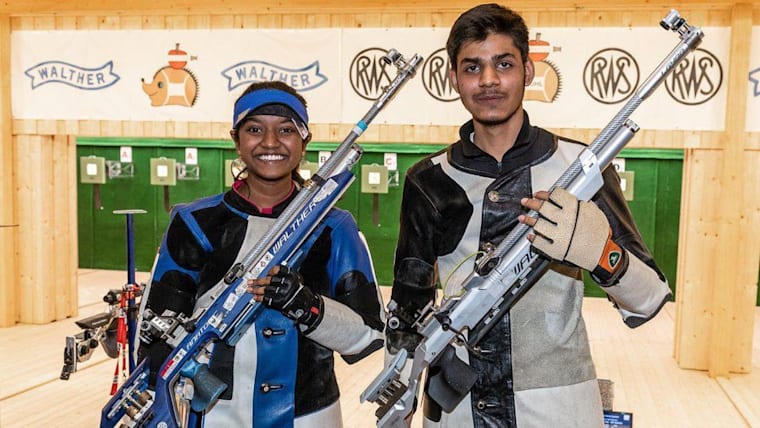 Divyansh Panwar and Elavenil Valarivan are the No.1 ranked shooter in the World. However, Elavenil Valarivan did not qualify for the Tokyo Olympics 2020, but she was included in the team just because she is considered as one of the contenders to win the medal.
Recent form
They both managed to win the 2021 ISSF World Cup and then became the world no. pair in the 10m. air pistol mixed category. Though it would be fair to say that Panwar had the most of the success when he had paired with Anjum Moudgil. Panwar won the bronze at the 2019 World Cup with Ajnum also.
Why are they medal contenders?
They both are ranked no.1 in 10m. air pistol category which makes them one of the strongest pairs in the world. Along with that, their recent success at the 2021 ISSF World cup will surely make them favourites to finish at the podium.
#8 PV Sindhu (Badminton, Women's Singles)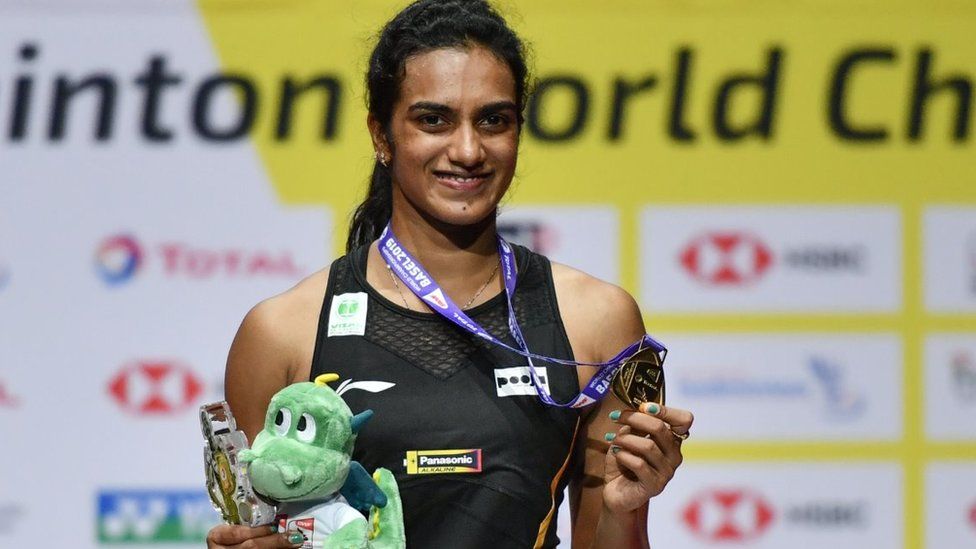 The silver medalist from the Rio Olympics had some tough times in recent years. But, she is long way from finish. Now, with Siana Nehwal and Kidambi Srikant not qualifying for the Olympics, Sindhu will have to perform her best to give India another medal in Badminton.
Recent form
The 25 year old had some very tough periods in recent years. Though her win at the 2019 World Championships will give her good memories to recall. Moreover, recent win over from World No.1 Akane Yamaguchi at the All England will surely make her fans hopefull.
Why is she a medal contender?
Bad performances prior to the Olympics does not bother Sindhu that much. She is someone who performs at the biggest levels and knows how to win as well. A hungry Sindhu might be the perfect recipe for another medal in the badminton.
#9 Amit Panghal (Boxing, Men's, 52kg)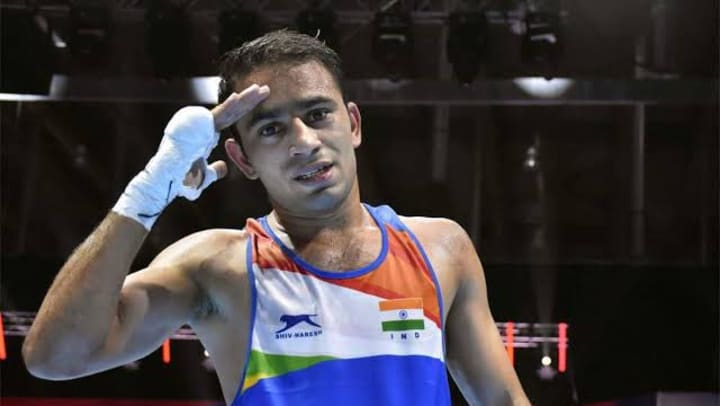 Amit Panghal is the current leader of Indian boxing contingent. The army man has impressed everyone with his performances in recent years and would like to carry the glory of Indian boxing forward.
Recent form
Amit has won silver at the Asian Boxing Championship in Dubai in 2021. He has also won silver in the World Championships. He is also the first and only Indian male boxer to win a world boxing championships silver medal. His silver medal at 2018 Commonwealth Games in Gold Coast also proves his calibre to win at the biggest level.
Read Also: Asian Boxing Championship Winners: All the winners from AABC 2021
Why is he a medal contender?
Panghal is the No. 1 ranked boxer in International Boxing Association's (AIBA) 52kg category. This proves how strong he is in his category. With a strength of a youth and experience of winning medals at the international level, makes him a hope for the Indian boxing contingent.
Read Also: A Glimpse of Indian Female Athletes Who Qualified for Tokyo Olympics
#10 Indian Men's Hockey Team (Hockey)
Indian hockey has given the most number of Olympic medals than any other team sports. In the earlier 1950s and 1960s, Indian hockey used to be strongest team in the world. With some recent good performances, fans can hope for a return to glory days for Indian Hockey.
Recent form
The currently ranked world no.5 hockey team has beaten every team in the world in recent years. Recently they have also beaten the current Olympic champion team, Argentina twice in the same tournament.
Why are they medal contenders?
India's qualifying round consists team likes Argentina, Australia, New Zealand, Japan and Spain. This means they are very likely to go through the qualifying stages. Coming to the knock out stages, with the confidence of beating everyone in the last two years, its anyone's game from then on.