In the aftermath of Russia's invasion of Ukraine, Daniil Medvedev is once again facing the danger of being barred from Wimbledon. Russians could be barred from playing unless they provide "assurances," according to the Sports Minister. Now the All England Club could restrict Medvedev from competing as a private members' club.
Due to the conflict in Ukraine, there has been speculation of a ban for world No. 2 Daniil Medvedev and other Russian players competing at Wimbledon this year. The threat has now grown stronger, with the AELTC considering banning sportsmen from the nation. According to a recent article from The Telegraph, as a private members' club, they will be allowed to prevent Russian players from competing without fear of legal penalties.
The private member clubs have the freedom to ban Russian players
A source close to the club confirmed that its private status. It means they had more freedom to implement a potential ban than the likes of the ATP and WTA. "Private member clubs have more freedom as to who to allow in or not. So they wouldn't be subject to the same discrimination laws as the tours," they said.
"If you are running the main tennis tour, you have the freedom to ban players. If they have been found guilty of match-fixing or doping, for instance. But you have to be able to show that this course of action is reasonable. In this instance, if the tours took strong action, Russians players could argue that they are being prevented from making a living through no fault of their own. That is not so much of an issue for Wimbledon, however," they added.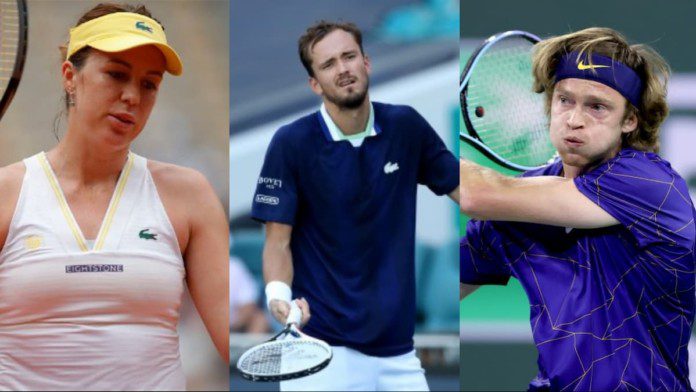 All players from Russia and Belarus will be playing as neutrals, with no reference to their country or flag, according to the ATP, WTA, ITF, and four Grand Slams. But the All England Club may now take things a step further with their power to make independent judgments.
Read more: Alexander Zverev, Nick Kyrgios and other tennis players receive a warning over their 'aggressive behaviour'
With the entry deadline for Wimbledon coming in mid-May, the club has just weeks to decide whether Russian and potentially Belarusian players will be banned from the prestigious Grand Slam which begins at the end of June. Sports Minister Nigel Huddleston has already previously suggested Russian players denounce Putin and the war or be barred from the tournament