The oldest and the most traditional tennis competition and the only Grand Slam which is still played on Grass. Dating back to 1877, Wimbledon is an age-old event that involves on-court rivalries and many more. The most Prestigious tournament that makes its way to the top of almost every tennis player's priority list. Hence, let us look at the Wimbledon Records where India achieved its biggest victories.
Also Read: Wimbledon: Players with most titles in the open era
Six Indians who emerged victorious at Wimbledon
6. Ramesh Krishnan (1979)
The Krishnans have been excelling in Wimbledon for quite a long time. Hailing from Madras, Ramesh Krishnan is one of the best tennis players India has ever produced. However, he did not make it to a Grand Slam final throughout his long illustrious career. But most importantly, Krishnan has added eight singles titles to his name.
In 1979, Ramesh became the junior Wimbledon champion defeating David Siegler, 6-0 6-2 in the final. Although only seven years after becoming a junior champion, Krishnan reached the fourth round at Wimbledon, he was defeated by Eric Jelen of Germany.
Also Read: Longest Tennis matches in history (All formats)
5. Sumit Nagal (2015)
Youngster Sumit Nagal is one of the best emerging players in India in recent times. He created history and new Wimbledon records after becoming the sixth Indian to win a Grand Slam junior title. Sumit won the boy's doubles trophy at the Wimbledon Championships with partner Nam Hoang Ly in July 2015.
Nagal, then 17, along with his eighth-seed Vietnamese partner overcame the fourth-seed partners Reilly Opelka and Akira Santillan 7-6(4) 6-4 in the title clash in what lasted about 63 minutes.
Also Read: Most matches in Tennis history (male & female): Tennis Records
4. Sania Mirza – Martina Hingis(2015)
The pride of India, Sania Mirza has held India's head high on several occasions. Similarly, she was part of one of the biggest Victories of India in 2015. Sania Mirza and Martina Hingis defeated the second-seeded Russian pair of Elena Vesnina and Ekaterina Makarova 5-7, 7-6(4), 7-5 in 2015 to win the women's doubles title at Wimbledon, in what was their first Grand Slam title as a team.
Subsequently, the victory was the first title at The All England Club for Sania. It was also the first Wimbledon title for Hingis since winning the ladies' singles title in 1997.
This was the fourth title for Sania and Hingis, who paired up together earlier that year in March. They won the Masters 1000 tournaments in Indian Wells and Miami as well as the Family Circle Cup in Charleston, South Carolina, in United States.
Also Read: Grand Slam Records: Most Grand Slam Titles by active players 2022 (Men)
3. Leander Paes- Mahesh Bhupathi (1999)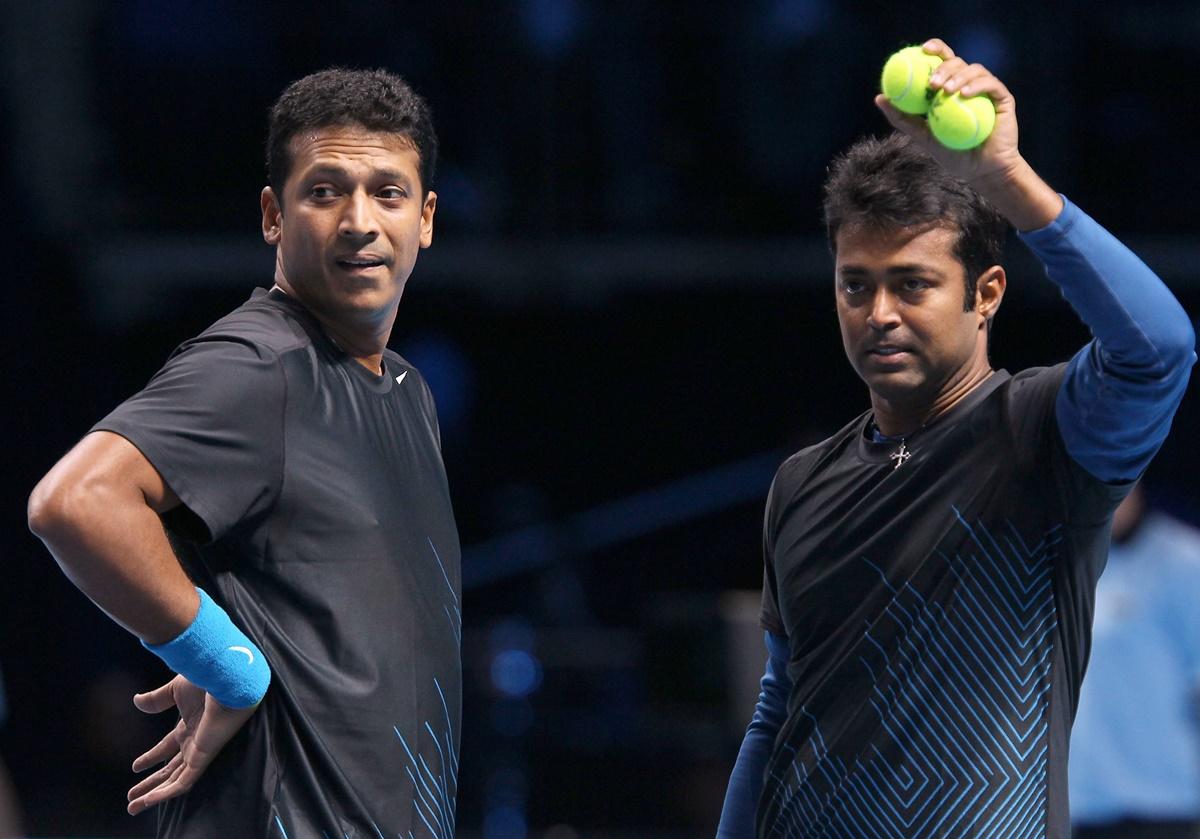 The year 1999 was one of the best years for the duo. The iconic duo won their maiden major Grand Slam triumph at the French Open. Leander Paes and Mahesh Bhupathi won Wimbledon by beating Paul Haarhuis of the Netherlands and Jared Palmer of the US, 6-7(10), 6-3, 6-4, 7-6(4) in the final.
Above all, Leander and Bhupathi became the first Indian pair to win a Grand Slam creating one of the most prestigious Wimbledon records.
2. Leander Paes (1990)
Leander Paes emerged victorious after defeating one of the favourites Ivan Barron from the USA in the semi-finals. He then went on to be the champion defeating Marcos Ondruska in the final, 7–5, 2–6, 6–4 to win the Boys Singles tennis title at the 1990 Wimbledon Championships. He also holds the record for the most doubles wins in the Davis Cup. Paes has won eight doubles and ten mixed doubles Grand Slam titles. As a matter of fact, he is regarded as one of the best Indians to ever grace the tennis court.
Grand Slam Double Title winning years:
Australian Open (2012)
French Open (1999, 2001, 2009)
Wimbledon (1999)
US Open (2006, 2009, 2013)
Grand Slam Mixed Double Title winning years:
Australian Open (2003, 2010, 2015)
French Open (2016)
Wimbledon (1999, 2003, 2010, 2015)
US Open (2008, 2015)
Also Read: 10 longest winning streak in tennis history which are unforgettable
1. Ramanathan Krishnan (1954)
Another Krishnan who features in this list is Ramanathan Krishnan. Born in 1937 in a small village of Tenkasi in Nagercoil, Tamil Nadu, Krishnan is arguably considered India's best-ever tennis player.
He reached the Wimbledon semi-finals twice in 1960 and 1961 and attained a career-high ranking of World No 6. Then 17-year-old, Ramanathan Krishnan became the first Asian player to win the boys' single title at Wimbledon in 1954, beating Ashley Cooper in the final. He played the senior Wimbledon tournament in the same year as well.