The UEFA Euro 2020 group stage is done and dusted. The top two teams from each group go through to the Euro 2020 RO16, while the four best third-placed sides make their way to the knockouts.
Also Read: Euro 2020 Schedule, Groups and Fixtures: Every Detail on Euro 2020
Euro 2020 RO16: Qualified teams from each group:
Group A – Italy(winners), Wales(runners-up), Switzerland (3rd place)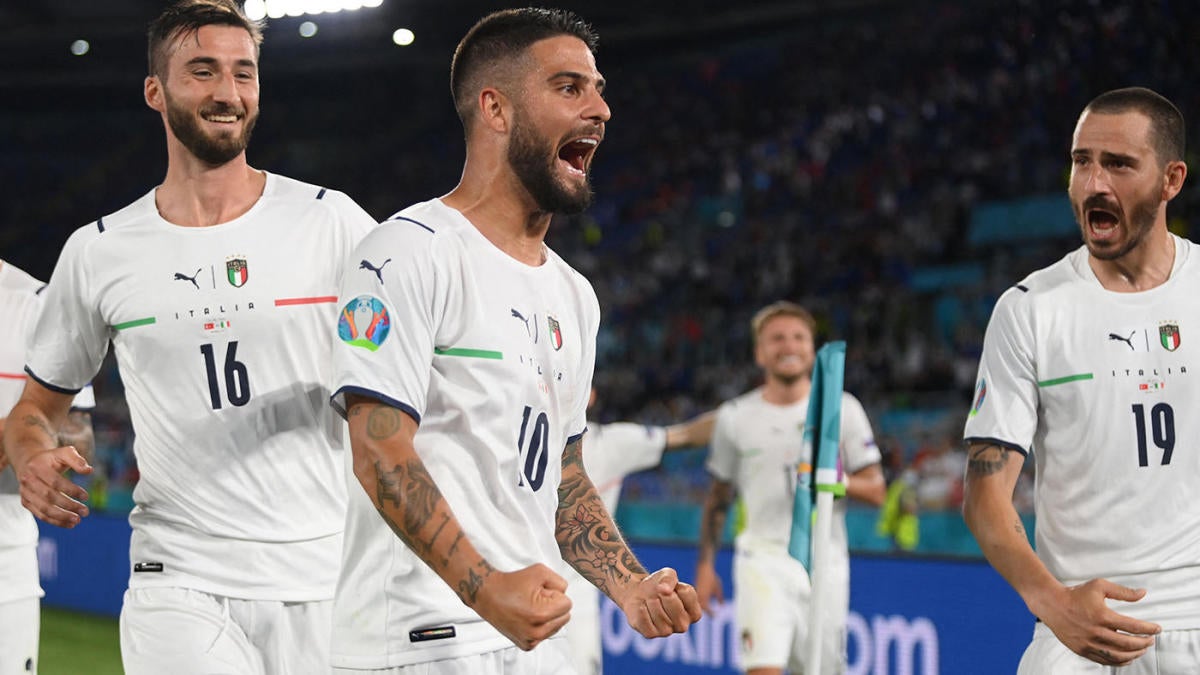 Italy convincingly qualified for the last 16 by winning all of their group stage games. They notched all available 9 points defeating every other contender in the group. Italy will play at Wembley on Saturday, and they will be up against the runners-up from Group C Austria, who beat Ukraine to secure the second spot in their last group match.
Wales secured their Euro 2020 RO16 spot by finishing as runners-up in Group A. They will play in Amsterdam on Saturday night. Wales will face the runners-up from Group B, Denmark, who won their final game against Russia defeating them 4-1.
Meanwhile, Switzerland is one of the four best third-placed teams securing 4 points in the group stage. They will face the winners of the Group of death France in the next round.
Also Read: EURO Cup 2020: New Record for Italy as they beat Turkey with ease
Group B – Belgium (winners), Denmark (runners-up)
Like Italy, Belgium also secured their last 16 spots by winning all three group stage games. Roberto Martinez's men learned about their opponents last night after the final standings in Group F. They will now face Portugal in Seville on Sunday.
However, Denmark who suffered a huge blow in the Eriksen event crawled their way into the last 16 after losing their first two group stage games. They will face Wales in the Round of 16 phase in Amsterdam.
Also Read: Top 10 highest scoring midfielders in the 21st century: Football facts
Group C – Netherlands (winners), Austria (runners-up), Ukraine (3rd place)
Although the Netherlands have a similar story to Italy and Belgium where they took all 9 points from the group stage, they were not dominating like the other two, winning several close games tightly on many occasions. As group winners, Netherlands will play on Sunday in Budapest, against Group D third-placed side Czech Republic.
Austria beat Ukraine in their final group game and finished as runners-up in the group. However, they have a tough task ahead as they will be facing Group A winners Italy at Wembley on Saturday.
Ukraine found themselves lucky to qualify as one of the four best third-placed teams courtesy to Spain who defeated Slovakia 5-1 in their final game and ruined their knockout hopes. They will now face Sweden on Tuesday in Glasgow.
Also Read: Euro Cup winners in the past 20 years
Group D – England (winners), Croatia (runners-up), Czech Republic (3rd place)
England are through to the last 16 as group winners after they beat the Czech Republic 1-0 in their final group stage game. After a shaky start, Southgate's men found a way to the knockouts, but the real challenge lies in front of them. They will face European giants Germany in their first knockout phase on Tuesday in London.
After a brilliant performance from the World cup runners up against Scotland they have found themselves in the 2nd place in Group D. The Ballon D'or winning midfielder Luka Modric scored a stunning goal to take the lead second time in the game. They will now face Spain in Copenhagen on Monday.
The Czech Republic, meanwhile, go through as one of the four best third-placed teams and take on Group C winners, the Netherlands on Sunday in Budapest.
Also Read: Top 10 Highest scorers in the history of the UEFA Euros (Updated)
Group E – Sweden (winners), Spain (runners-up)
Surprising everyone Sweden has emerged as Group E winners and will play Ukraine on Tuesday in Glasgow. Sweden was already through to the last 16 but a late winner against Poland helped them top the group, pushing Spain to 2nd place.
After a disappointing first two games and missing several chances, Spain finally found their rhythm against Slovakia. Although a dominating 5-0 victory was not enough to make them group winners. As a result, Spain will now meet Group D runners-up Croatia in Copenhagen.
Also Read: Spain pay price for no clean strikes as Morata flops again: Euro 2020
Group F – France (winners), Germany (runners-up), Portugal (3rd place)
The Group of death lived up to its expectations, with every result possible till the final minute. France didn't face a single defeat in the group stage and finished as winners. They will now face 3rd place Switzerland from Group A in their Euro 2020 RO16 phase.
Germany struggled to find their winning ways against Hungary and they were held of to a 2-2 draw. Although Germany finished second in the group, they were pretty average team in front of France and Hungary. The have huge challenge ahead as they face Group D winners England on Tuesday.
Portugal is repeating the same story as Euro 2016 where they qualified to the RO16 as one of the four best third place teams. Cristiano Ronaldo has stepped up his game and have contribution in each and every goal that Portugal has scored. However, things are not going to get easy as they face red hot favourites Belgium in the Last 16.
Also Read: Highest International Goalscorers in football history
Euro 2020 RO16 – fixtures and timings:

Saturday 26 June
1: Wales vs Denmark (18:00, Amsterdam)
2: Italy vs Austria (21:00, London)
Sunday 27 June
3: The Netherlands vs Czech Republic (18:00, Budapest)
4: Belgium vs Portugal (21:00, Seville)
Monday 28 June
5: Croatia vs Spain (18:00, Copenhagen)
6: France vs Switzerland (21:00, Bucharest)
Tuesday 29 June
7: England vs Germany (18:00, London)
8: Sweden vs Ukraine (21:00, Glasgow)
Rest days on 30 June and 1 July.