Scoring goals have always been the most important part of Football. However, goals by goalkeepers is a very rare event in this sport. Goalkeepers spend the majority of a match in the penalty area of their own team which makes this feat even more impressive. It is highly unusual for a goalkeeper to move far beyond the penalty box to join an attack. This leaves the defence vulnerable to long-distance attempts until the goalkeeper can return to defend it.
The most prolific goalscoring goalkeepers are those who take penalties or free kicks. However, on other occasions, goals by goalkeepers come from set-pieces. This mostly happens in the dead-end of the game where his team is trailing and they agree to go all in to avoid defeat. However, it may also happen from goal kicks or otherwise regular clearances that travel the pitch length into the opposite goal. These types of instances are generally very extreme and rare.
Also Read: 9 longest unbeaten streaks in football: Italy Football Team's 32 beaten run
List of Top 5 Highest Scoring Goalkeepers:
5. René Higuita (41 goals)
One of the most entertaining goalkeepers the game has ever witnessed. He is also famous for his scorpion kick save against England in 1995. The Colombian international has scored 41 goals and features at no. 5 in this list. Higuita was active in his professional career from 1985-2009. He was a real character on the football pitch and took numerous set pieces. He netted three times for his country.
Also Read: Top 10: Most Free-kick Goals In Football History (Updated)
4. Dimitar Ivankov (42 goals)
The former Bulgarian professional comes next on the list with 42 goals to his name. In his 16 years of Professional career from 1996-2012, he played for three teams. The teams being, Levski Sofia, Kayserispor and Bursaspor. However, he is known for his goals, especially from converting penalty kicks. Ivankov is the fourth highest goalscoring goalkeeper of all time with 42 goals, and Number 1 in Europe under this category.
3. Johnny Vegas Fernández (45 goals)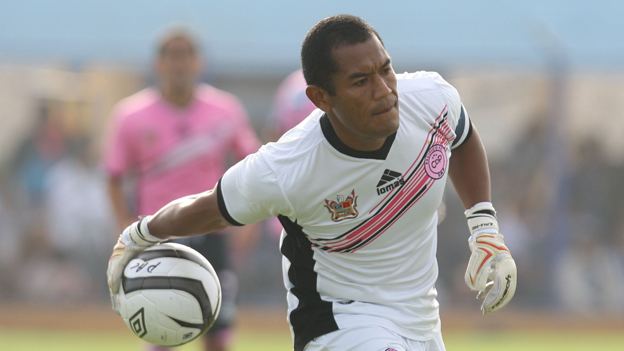 The former Peruvian professional footballer has scored 45 goals in his professional career and comes at number 3 on this list. Fernandez has scored forty goals in the first division, one goal in Copa Sudamericana and four goals in the second division. He was active as recently as of 2017 playing professional football. He then retired with an exceptional career, especially as a goalkeeper.
Also Read: Highest International Goalscorers in football history
2. José Luis Chilavert (67 goals)
The former Paraguayan professional footballer has scored 67 goals in his career. He is the second-highest goalscoring goalkeeper both in the world and South American continent. He has a record number of international goals (8) and is the only goalkeeper to score a hat trick. Chilavert represented teams like Paraguay, Zaragoza, Vélez Sársfield, Peñarol, Strasbourg, Sportivo Luqueno, San Lorenzo and Club Guaraní from 1982-2004 before retiring from professional football.
Also Read: Players With the Most Assists In Football History
1. Rogério Ceni (131 goals)
The record for most goals by goalkeepers is held by the Brazilian Rogério Ceni, with 131 goals. He played his professional career for Sao Paulo from 1990-2015. He has a bunch of records under his belt that includes a record number of free-kicks (61), a record number of penalties (70), a record number of club goals (131).
Ceni scored 14 goals including six free-kicks and eight penalties in Copa Libertadores. He also scored 65 goals that include 26 free kicks, one indirect free-kick and 38 penalties in the Brazilian League. He scored his record 100th goal in a 2–1 win for São Paulo on 27 March 2011.
Ceni, who had over 1000 appearances for Sao Paulo, was a mean free-kick taker and also took penalties for the team. He scored a record-breaking 47 goals for the Brazilian club in three seasons from 2005-2007.